Super Asia Foods & Spices, a leading retail giant in Canada with a rich history dating back to 1994, specializes in importing high-quality food products and groceries from the Asia-Pacific region. The company required a robust and reliable system to streamline its business processes to efficiently distribute its products across Canada and North America through an extensive B2B network. Additionally, with the management of over 1000 internal locations and the need for efficient pallet tracking, they sought a solution to optimize their warehouse operations.
Partnership with Brainvire, an Odoo Gold Partner:
Super Asia Foods & Spices partnered with Brainvire, a trusted Odoo gold partner renowned for their ERP implementation and consultation expertise. Brainvire has worked with Super Asia Foods & Spices for years, providing valuable ERP consultancy services. Having already implemented and managed Super Asia's Odoo v13 journey, Brainvire was well-acquainted with its business operations and possessed deep insights into their specific requirements. With their extensive experience and understanding of Super Asia's needs, Brainvire was fully prepared to assist them in harnessing the capabilities of the latest Odoo version, v16.
Super Asia's Success with Odoo's Ready-to-Use Solutions
Super Asia's Transition from Odoo v13 to v16
Odoo is a comprehensive business management software that integrates various modules like Sales, CRM, Accounting, Inventory, and more. However, upgrading to the latest version has traditionally been challenging for businesses.
Super Asia faced a similar challenge when they migrated from their existing Odoo v13 to the latest version, Odoo v16. This migration was crucial for Super Asia to benefit from the latest features, including an advanced user interface, improved performance, and enhanced functionalities.
Super Asia had made several customizations in their Odoo v13 version, which posed limitations in modification and enhancement. To overcome this challenge, Super Asia sought assistance from Brainvire, a leading digital transformation company. Brainvire utilized the available out-of-the-box solutions provided by Odoo v16, customized them to fit Super Asia's needs, and deployed them using Odoo.sh, a cloud service.
Additionally, Brainvire's team managed all warehouse operations and leveraged the Odoo Mobile App for efficient product scanning and fulfillment. This migration process allowed Super Asia to experience exponential growth, effectively handle large sales volumes, and achieve operational excellence while minimizing the obstacles of custom development.
The latest version, Odoo v16, offers a plethora of built-in features, such as real-time reporting, advanced accounting tools, and improved inventory management, which contribute to the success of businesses. Moreover, it ensures better usability, faster processing, and advanced security features, providing a secure and efficient environment for businesses to thrive.
Warehouse Management
Managing inventory and warehouse operations can be daunting, especially for businesses with a wide range of products and an extensive distribution network. As a leading brand, Super Asia encountered similar warehouse management and pallet tracking challenges, necessitating comprehensive solutions for efficient monitoring and management.
To address Super Asia's warehouse management needs, Brainvire's team implemented a barcode system that encompassed products, packages, and packaging pallets. Upon receipt in the warehouse, the products were integrated with barcodes, enabling seamless tracking and inventory management. The system also facilitated location tracking, reducing manual intervention and picking time while improving order processing through enhanced time and resource management.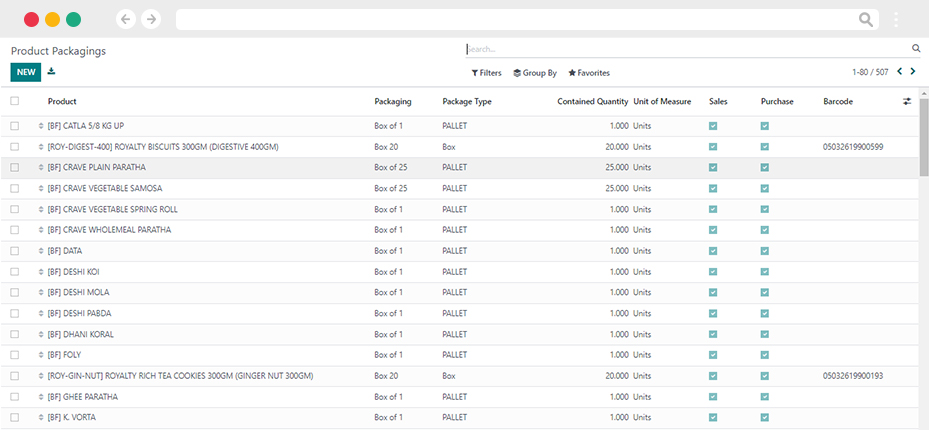 The barcode system solution provided by the experts proved highly efficient, empowering the brand to track each product effortlessly. As a result, the procurement management team, previously faced with difficulties aligning existing and on-demand products, can quickly grasp the requirements and efficiently stock items accordingly.
Enhancing Inventory Management with a Putaway Strategy
Efficient inventory management is crucial for businesses dealing with high volumes of stock. To optimize Super Asia's inventory management, the Odoo partner worked on refining the v13 customizations and implementing a default putaway strategy using the Storage Category.
A putaway strategy plays a vital role in warehouse management as it determines the most optimal location for each item within the warehouse. This strategy considers factors such as available space, item type, and item demand. Implementing this strategy allows the Super Asia team to locate items, simplifying inventory management quickly.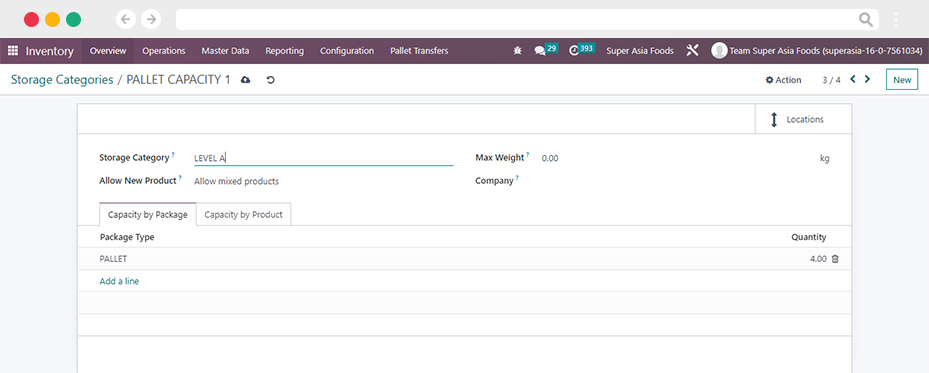 To further enhance the putaway strategy, inventory automation was introduced. This automation significantly reduces the manual effort required to analyze item demand and supply for effective management. With automation in place, the putaway strategy is further optimized, resulting in a notable reduction in the cycle time for stock management.
Streamlining Order Management
In order to provide Super Asia with a more efficient solution, the Odoo experts undertook the task of reconfiguring the product unit of measure (UoM) from a pack of x units to individual units. This reconfiguration was applied to all sales, purchases, and eCommerce orders, utilizing Odoo's default features without customization.
The order management process was significantly streamlined by reconfiguring the product UoM from packs to individual units. This reconfiguration eliminated the need for manual calculations of item quantities, reducing the level of manual intervention required. Additionally, for packages that consisted of multiple UoM box packs, the team configured them with barcodes, simplifying inventory tracking and management.
The solution optimized Super Asia's order management process by ensuring a more accurate and efficient calculation of units required to fulfill each order. In addition, using barcodes for packages with multiple UoM box packs also improved inventory tracking accuracy, further enhancing the overall efficiency of the order management system.
Odoo's Storage Category Solution
With Super Asia's business expansion and a surge in sales volume, efficient inventory management became a critical aspect. To address this, the professionals proposed a storage category solution to streamline the inventory management process and optimize product quantity.
The implementation of this solution involved minor customizations, such as auto-fulfillments, and the utilization of Odoo's new Storage Category feature. This feature enabled the team to allocate storage capacity to specific locations and categorize products based on their unique storage requirements.
The storage category solution brought several benefits to Super Asia, including streamlined product management, improved product location accuracy, increased storage capacity utilization, and enhanced warehouse operation efficiency. In addition, this solution empowers Super Asia to effectively manage its inventory, even as they continue to expand its business.
By leveraging Odoo's Storage Category feature and implementing the proposed solution, Super Asia gains better control over their inventory, leading to improved operational effectiveness and optimized product quantity management.
Efficient Delivery Planning with Odoo's Fleet Module
To streamline the delivery planning process and effectively manage routes, the company implemented the Odoo Fleet Module. This module proved invaluable in fleet management by enabling vehicle maintenance and fuel consumption tracking and providing real-time vehicle tracking.
To implement the solution, the team configured the Fleet Master with all the necessary details of each vehicle, including capacity, fuel consumption, and maintenance schedule. Additionally, they developed a new app that integrated seamlessly with the Fleet Module, allowing the team to plan and manage their delivery routes efficiently.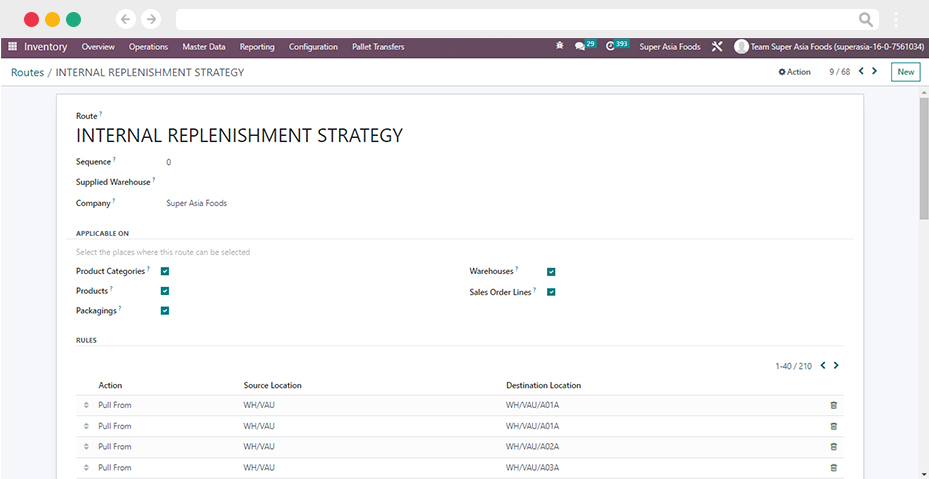 Utilizing the Fleet Module allowed the team to gain real-time monitoring capabilities for their vehicles. This enabled them to optimize their delivery routes, ensuring timely and efficient deliveries. The module also played a crucial role in cost reduction and increased efficiency by accurately tracking the fuel consumption of their vehicles.
Empowering Business Analysis with a Dynamic Dashboard
Brainvire's team implemented a cutting-edge, dynamic dashboard feature to provide the entity with practical business analysis capabilities. This advanced dashboard offered a comprehensive overview of key business elements, including sales, inventory, and procurement.
The introduction of the dynamic dashboard allowed the company to swiftly gain insights into its business performance, enabling prompt analysis and comprehension of critical data. In addition, the dashboard was meticulously customized to present vital parameters such as revenue, regional sales breakdown, and product performance. This allowed the business to quickly identify areas for improvement and make informed decisions based on data.

Beyond visualization, the dashboard offered enhanced reporting functionality, enabling the generation of comprehensive reports covering sales, inventory, and procurement. This capability facilitated efficient analysis of the business operations, empowering the brand to make well-informed choices for continued growth and success.
The dynamic dashboard feature provided the company with a powerful tool for business analysis, offering a holistic view of key metrics and facilitating data-driven decision-making. With the ability to monitor and analyze crucial aspects of their business, the company was empowered to drive growth and achieve sustained success.
Boosting Business Efficiency with Upgraded Odoo Integrations
The experts focused on enhancing business processes by upgrading the Odoo integration with the PEPPERI mobile app for the field sales staff. This upgraded integration provided real-time access to crucial data such as inventory, pricing, and customer information, empowering the sales staff to make informed decisions during customer interactions.
Furthermore, the team integrated the Odoo system with shipping and payment gateways. This integration allowed the business to automate shipping, minimizing errors and reducing order processing time. Additionally, the payment gateway integration provided customers with a more convenient way to make online payments, enhancing the overall customer experience.
The integration with shipping and payment gateways significantly optimized the business process, improving accuracy and timely order fulfilment. By automating the shipping process, the business reduced errors and ensured efficient order processing. In addition, the payment gateway integration enhanced the customer experience by offering a more convenient and seamless payment option for their orders.
Thus, the upgraded Odoo integrations played a crucial role in boosting business efficiency. They enabled real-time access to essential data for sales staff, automated shipping processes, minimized errors, reduced order processing time, and provided customers with a seamless payment experience. These enhancements ultimately improved productivity, customer satisfaction, and overall business success.
Brainvire and Super Asia: Orchestrating Success with Odoo
In conclusion, Super Asia's journey with Odoo has been a resounding success, thanks to implementing various out-of-the-box solutions and strategic upgrades. With the assistance of Brainvire, Super Asia overcame challenges during their migration from Odoo v13 to v16, unlocking the benefits of an advanced user interface and enhanced functionalities. 
The introduction of an efficient barcode system revolutionized warehouse management, simplifying tracking and inventory management—the optimization of putaway strategies and simplified unit of measure (UoM) configurations further streamlined operations. Additionally, the integration of Odoo with fleet management, dynamic dashboard, and payment gateways significantly enhanced business efficiency. These successful implementations have empowered Super Asia to achieve operational excellence, improve customer experiences, and drive continued growth in a highly competitive market.