In the early days of eCommerce, most customers were drawn to the ease of use and low costs on sites like Amazon, eBay, and Etsy. The traditional B2B salesperson's day consists of making calls, holding meetings, and preparing proposals, eventually impacting the customer's experience.
However, the internet has served as our society's equivalent of a retail mall in the last few years. And as ecommerce development evolved immensely in terms of speed, ease of use, and availability, so did shoppers' expectations. And now, with more than five billion internet users across the globe, the popularity of online shopping will grow more. For instance, in 2022, global retail e-commerce sales reached $5.7 trillion, which will grow further in the upcoming time. 
The advantages include lower overhead, increased productivity, and access to a broader customer base. It's incredible how the recent shift in B2B eCommerce platforms have brought about. They have dramatically transformed the business landscape, replacing traditional methods with an online marketplace. This shift has propelled brands worldwide to remarkable success, even those that previously struggled with conventional marketing channels. 
B2B Has Changed the Face of Conventional Marketing for Many Businesses
Several businesses are considering changing their ecommerce platform vendor today. If B2B companies want to be competitive in the years ahead, they'll need an ecommerce platform that can handle the needs of their clientele. 
In 2023, traditional marketing has evolved significantly, transitioning towards B2B ecommerce platforms. Businesses now prioritize online sales channels, leveraging technology and data-driven strategies to engage with customers, enhance user experiences, and drive sales on digital platforms.
In addition, B2B platforms provide unrivaled ease, efficacy, and cost-efficiency in managing supply chains and completing transactions. Now, let's delve deeper into the significance of B2B platforms and how they contribute to long-term business success.

Understanding the Significance of B2B eCommerce Platforms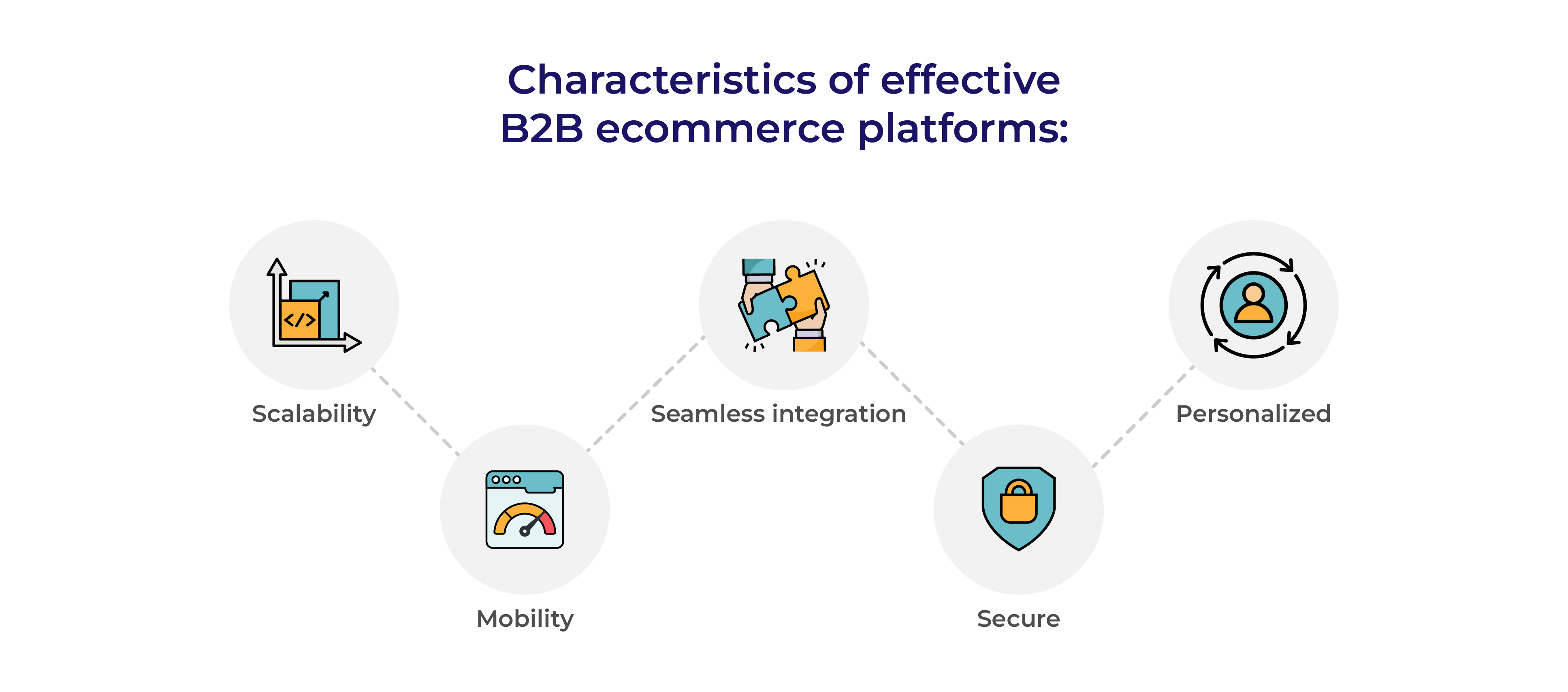 As more and more firms move their commerce online, understanding B2B eCommerce platforms is crucial. As a result, everything from marketing to logistics is being affected by digitization. Efficiency gains, international expansion, customized offerings, and deliberation informed by quantitative data all play a role.
Significant differences exist between B2B and B2C commerce:
B2B marketing is aimed at other businesses, whereas B2C marketing is directed at consumers directly.

B2B transactions often entail larger volumes and greater prices.

Differences in emphasis: B2B is relationship-based, whereas B2C is transactional.

Complexity: In B2B deals, many people are generally involved in final decisions.
The ability to handle catalogs, estimates, order processing, customer administration, and invoicing are all crucial components of any B2B eCommerce platform.
Highly effective business-to-business (B2B) platforms have these characteristics:
They are scalable, 

Can be integrated with other systems, 

Can be personalized, 

Are easy to use on mobile devices, 

And have strong security measures.
Businesses that want to succeed in today's digital economy must understand the opportunities presented by business-to-business (B2B) eCommerce platforms. And to benefit from those opportunities, companies need to learn key features that will help the business thrive in the digital realm. 
B2B eCommerce Platform Key Features to Leverage as per Business Model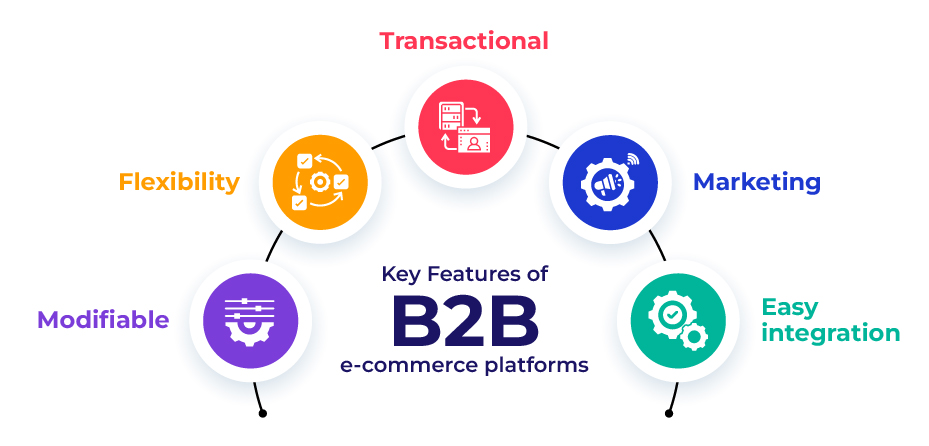 Let's discuss the features that make the best B2B e-commerce platforms appeal to customers.
| | |
| --- | --- |
| Features | Usage |
|  Modifiable storefront | It aids in designing, developing, and optimizing the online consumer experience without coding. |
| Flexible and individual rates | Customized rates, bulk discounts, and sales are all available. |
| Ordering is now much easier | In addition to placing and tracking bulk purchases, customers may quickly repurchase previously bought items. |
| Managing data about products | Is useful for creating, maintaining, and improving SKUs in one place. |
| Digital payment methods are available | It works with the current system to accept payments from various cards and electronic wallets. |
With adherence to the features of B2B eCommerce for businesses, it's time to break down a few of the most popular B2B eCommerce platforms that have shown great strength in delivering their functionalities to regulate a digital business without any hassle.
Best B2B eCommerce Platform Comparison to Choose From
Adobe Commerce:
Unlike the usual business-to-consumer approach, these B2B capabilities are customized for retailers (Adobe Commerce merchants) who exclusively engage with other businesses. It works for companies with complex hierarchies and many users with varying degrees of access and buying authority.
PIM (Product Information Management)

Excellent functionality for handling large product catalogs

Features

Effective Advertising Tools.

Brand-specific Localization & Customization

Tailored Checkout

Global Payment

Powerful Capabilities to Personalize Products for Each buyer.


Support and Maintenance

Provide reliable support and regular updates for platform optimization.

Ease of Use

User-friendly interface with intuitive navigation.

Scalability

Highly scalable, suitable for both small and large enterprises.

Cost

Higher cost, more suitable for enterprise-level businesses.

Big Commerce:
BigCommerce allows business-to-business (B2B) retailers to build a unique and powerful online storefront without sacrificing safety, reliability, or scalability.
PIM (Product Information Management)

Excellent functionality for handling large product catalogs

Features

Multi-Channel Selling

Advanced SEO

Comprehensive Suite

WordPress Integration

Faceted Search

Theme Customization

Support and Maintenance

Provides dependable assistance, as well as ongoing platform development.

Ease of Use

For companies of all sizes, an intuitive and user-friendly platform is available.

Scalability

Easily scalable to meet changing business demands.

Cost

Medium to high, suitable for mid-sized businesses and above.
Salesforce B2B:
Salesforce facilitates the rapid rollout of individualized digital ordering for B2B providers. Easy reordering and built-in payment options are ideal for business-to-business (B2B) customers.
PIM (Product Information Management)

Strong capabilities for managing product data and catalogs.

Features

Omni-channel Account Engagement

AI-Driven Personalization

Storefront Management 

Advanced Sales Tools

Streamlined Operations

Efficient Order Management

Customer-Centric Solutions

Support and Maintenance

Salesforce has great support and releases updates often.

Ease of Use

is Simple to use, particularly for companies already familiar with Salesforce.com.

Scalability

Excellent scalability; may be used by corporations of any size.

Cost

More expensive; designed for large corporations.
HCL Commerce:
HCL Commerce is an adaptable ecommerce solution with high availability and scalability. It enables you to engage with commerce with both end users (commerce to Consumer, or B2C) and other enterprises (Business to Business, or B2B).
PIM (Product Information Management)

Robust capabilities for managing complex product data.

Features

Loyalty Management

Omnichannel Commerce 

Customer experience management 

Elastic search 

Open APIs 

Robust Security

Support and Maintenance

Reliable support and continuous improvement.

Ease of Use

Moderately intuitive interface with advanced functionalities.

Scalability

Highly scalable and suitable for businesses of all sizes.

Cost

Higher cost, aimed at mid-sized to large enterprises.

VTEX:
VTEX is a Cloud-based e-commerce system that provides e-vendors with a single location from which they can launch and manage their online shops and keep tabs on their clients at every stage of the buying process.
PIM (Product Information Management)

Advanced tools for managing complex product data and catalogs.

Features

Personalized Catalogs

Robust Analytics

Scalable Infrastructure

Real-Time Inventory Management

Multi-Channel Selling

Comprehensive Suite

Support and Maintenance

Consistent and helpful platform optimization updates and assistance.

Ease of Use

Designed with ease of use in mind for both companies and their clients.

Scalability

Highly scalable and suitable for businesses of all sizes.

Cost

Costlier; aimed at medium- and large-sized businesses.

SAP Commerce:
The SAP Commerce B2B Commerce Module is a multi-channel solution designed for business-to-business (B2B) enterprises that can be readily tailored to meet the unique needs of the B2B buying process. One platform may support several business formats, channels, and markets.
PIM (Product Information Management)

Efficient tools for managing product data and catalogs.

Features

Integrated Order Management

Flexible Catalog Management

Robust Search and Navigation

Seamless Integration Options

Advanced Order Management

Customer Segmentation

Support and Maintenance

Consistent updates and solid support for your platform.

Ease of Use

Moderately simple to use, yet packed with powerful features.

Scalability

Extremely flexible and used by organizations of any size.

Cost

Higher cost, aimed at mid-sized to large enterprises.
These platforms certainly have their own benefits and drawbacks, and the only way to determine the best one is to find which resonates best with our business model. Just like a North American eye and skin care R&D firm took the plunge and believed that they needed Adobe Commerce to grow in the digital landscape and approached the experts for it. Brainvire was pivotal in transforming their conventional business platform to an advanced eCommerce solution powered by Adobe Commerce.
Its business was able to reach more customers via the B2B platform. A successful migration process led to the implementation of biweekly and monthly subscription models, serving as a compelling case study of the project's success. The brand is happy with the enhanced customer experiences, savings, dependable deliveries, and overall positive impact on their business.
A B2B eCommerce platform is perfect for getting global exposure, streamlining business operations, and supply chain management; it gives companies a leg up on the competition and links with other systems. 
Take a chance to switch to a more powerful B2B eCommerce platform that might profoundly impact your business. Find your way to success by investigating your choices.  

Final Thoughts
This analysis shows that you can take your pick from a wide array of choices for your business. You may find the best B2B e-commerce platforms by comparing the market leaders. After completing the preliminary research, you can actively focus on the platform that best aligns with your company's requirements and budget.
Key takeaways: 
-  Consider the benefits of a B2B commerce platform after evaluating your company's needs.
-  Don't be timid; lead in creating a brighter tomorrow.
-  Learn the benefits a B2B commerce platform may bring to your firm.
These mediums are helpful because of their efficiency, worldwide reach, and ease of use. Investigate the essential aspects of each platform before making a decision. It's time to ensure the platform's capabilities align with your business's.