Continual evolution is the only constant, fuelling technological advancements and how humans interact with technology. This becomes even more evident when you evaluate how far we have come in terms of using technology to communicate. A century ago, telegrams were used for communication; now, mobile devices are far more effective and efficient.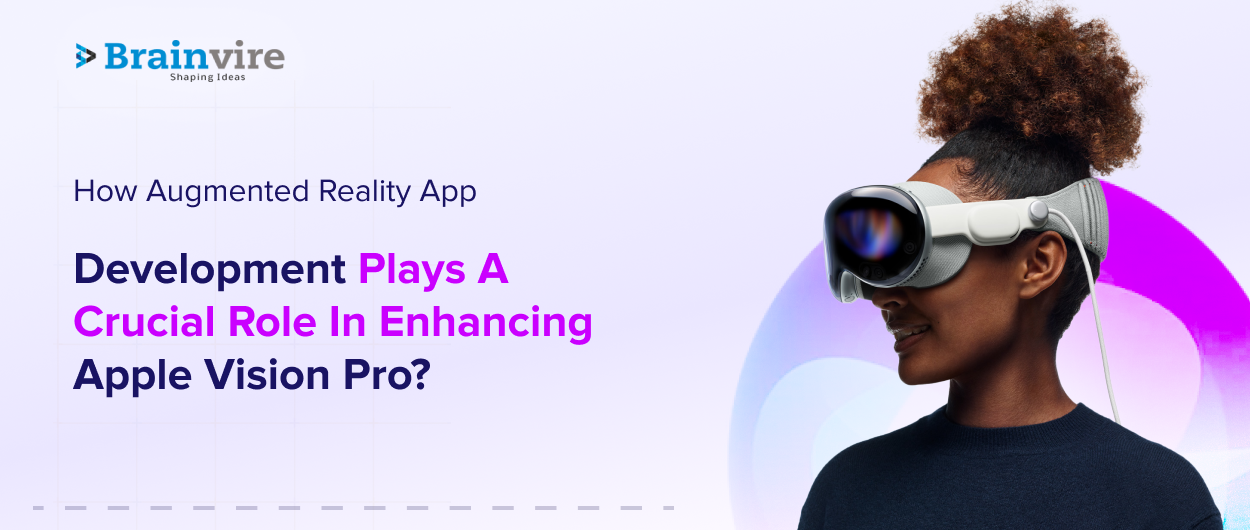 But things are now taking a different form with recent advancements in Augmented Reality or AR app development. Most significant tech companies are leveraging this technological advancement to their advantage. Unsurprisingly, Apple, as one of the largest tech companies worldwide, seeks to harness AR's potential. 
This development introduces Apple Vision Pro, another endeavor by the tech giant to delve into AR. But what is the Apple Vision Pro, and how is AR significantly enhancing the app's operability? Continuing to read further will provide you with a nuanced understanding of the ongoing developments related to AR app development and the newly introduced Apple Vision Pro app. Stay tuned to discover more about these exciting advancements in the world of technology.   
But, What Is The Apple Vision Pro All About?
Apple Vision Pro is a revolutionary platform that leverages the potential of AR and computer vision. The platform combines powerful software, advanced hardware, and intelligent algorithms to provide users with enhanced AR experiences. 

This unique platform is designed to provide users with endless possibilities for immersive and interactive applications development. Apple Vision Pro achieves a unique blend of the natural and virtual worlds, offering users an unprecedented experience. 
The Augmented Reality app boasts various distinctive features, including a potent onboard processing system, advanced display technology, sensors, cameras, and a highly intuitive user interface. People can use the Apple Vision Pro in many ways, including gaming, education, healthcare, medicine, architecture, manufacturing, engineering, and more. 
Most experts are highly optimistic about the impact of Apple Vision Pro on varied industries. They suggest the platform will help enhance productivity, transform user experiences, and make AR more accessible.
How Augmented Reality App Development Plays an Important Role in Boosting Apple Vision Pro Functionality?

Recently, Apple has developed an advanced and innovative device called Apple Vision Pro, a headset that can display augmented reality content. This has only become possible due to the augmented reality app development, enabling Apple to integrate into their latest product. AR app development surpasses the capabilities of mobile apps on tablets and smartphones. AR has become a powerful tool in the eCommerce world by narrowing the gap in product reliability.
The AR app development companies have helped Apple to boost the function of Apple Pro Vision in numerous ways. AR app development empowers users with a seamless and immersive experience on Apple Pro Vision, enabling virtual store visits, efficient content consumption, and effective task completion.
What Are The Industries That Can Avail the Advantages of Augmented Reality App Development with Vision Pro?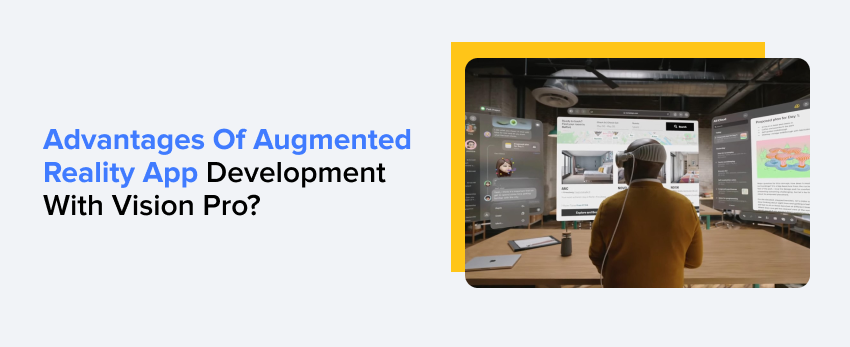 Augmented Reality was initially introduced for entertainment purposes and gaming industries. But soon, eCommerce businesses realized the potential of the technology and leveraged it to deliver superior shopping experiences to customers. However, Apple Vision Pro is now set to increase the application scope of AR, enabling multiple industries to use the technology to their advantage. Thus, here are some of the industries which can enjoy the advantages of AR with Vision Pro:
AR Apps Can Be Used To Create Educational Apps
When integrated with Apple Vision Pro, augmented reality app development can transform educational apps and make them more advanced and accessible. It can create and design apps so that they can read and respond to users' gestures. Apple users can interact with educational apps by looking at them, selecting them with their fingertips, and flicking their wrists to scroll. Also, since Vision Pro has eye-tracking technology, users can interact with educational apps by simply moving their eyes. 
This is especially beneficial for people with disabilities since; with Apple Vision Pro's help, they will have a seamless experience while studying. AR app development can also make the classroom a more powerful and purposeful space by elevating presentation ideas and experiences. 
AR Apps Can Be Used To Create Business Apps

The AR has always been affordable and accessible when it comes to business, and now it may become even more effective with the introduction of Apple Vision Pro. Previously AR helped enhance customer experience, drive engagement, and increase brand awareness. But now, with the help of Apple Vision Pro, users can interact with the business apps more effectively by visiting the virtual store and have a solid fast-hand experience. 
AR app development companies can create business apps in such a way that it will not only allow customers to visit their digital store but also have a wholesome experience. The Vision Pro will augment 3D objects in the business apps to make them more appealing to customers and clients. 
AR Apps Can Be Used To Create Entertainment Apps
AR app development was a revolutionary technology for entertainment apps and industries as it enables users to enjoy entertainment apps more practically. However, with Vision Pro integrated with Augmented Reality can help the users to immerse themselves fully in the virtual world and enjoy the feeling of "mixed reality." The users can navigate entertainment apps using their eyes, voice, and hands. 
All these amazing features created by AR app development can make the Apple Vision Pro more successful because people can now have a real-life experience just by sitting in one place. Even people with disabilities who were limited to stepping outside can now virtually visit places and interact with them to have an enhanced experience. 
AR Apps Can Be Used To Provide Remote Assistance To Patients
AR app development companies integrated with Vision Pro may also be able to open new doors to health and infrastructure. Sometimes medical experts can't visit their patients for various reasons, which can be troublesome for both parties. That's where Augmented Reality rescues people who need medical assistance.
Vision Pro can make surgical procedures more accessible and efficient, guide medical professionals, and perform various other virtually possible treatments.
AR Apps Can Be Used To Help Customers Shop for Products and Services
Digital stores have become more accessible and efficient ever since they started using Augmented Reality to visit the stores. The businesses, however, must integrate Augmented Reality with the help of AR app development companies in their online stores so that people can have a 3D experience while interacting and testing their products and services. 
The Apple Vision Pro will be able to display content present in the business apps more clearly and efficiently by blocking your surrounding area. It allows you to have a 3D view of the digital store and, more precisely, consume the business app content. This way, the customers and clients can better judge the products and services without needing to visit the store in Reality. 
AR Apps Can Be Used To Help Manufacturers Design Products
AR brings life to products and objects, and this can be beneficial for manufacturers to design their products and services. They can now visualize products, enabling them to create and design them in the best manner possible. The manufacturers can experience and interact with the products and services with the help of AR app development before delivering the final results. 
However, the Apple Vision Pro makes the manufacturing and designing procedures more efficient because it assists the users, visualizes products, and gives them a distinct perspective. Now manufacturers can make fewer errors and generate minimal waste while designing a product or service.
What Are The Benefits Of Augmented Reality App Development?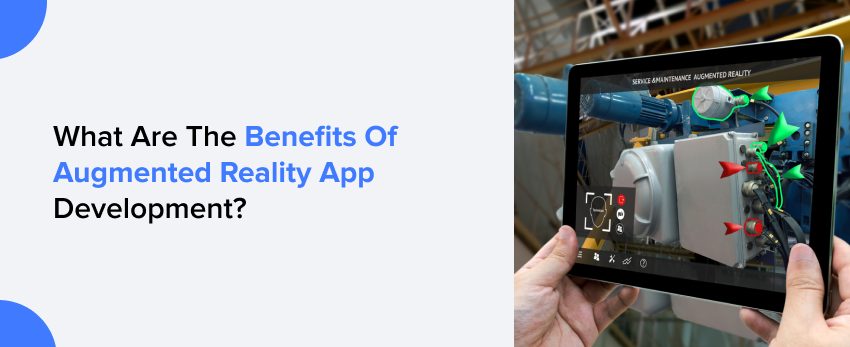 Augmented Reality has been there for quite some time now, and one cannot overlook the benefits the technology has to offer. Various sectors widely use it to scale businesses and give a solid user experience to customers and users. 
AR app development has made the functionalities of specific devices like Apple Vision Pro more robust and intriguing. Let's look at some of the noteworthy benefits of Augmented Reality App Development: 
Increased Engagement: Initially, AR was considered to be a technology for the gaming and entertainment industries, but soon it took over the business sector, which increased user engagement further. This technology allows users a fun interaction and smooth experience on virtual platforms. 
Since it's easy to use and accessible, people are more drawn to this technology and have utilized it for their benefit. Organizations can use AR to scale and promote their business and boost interactions.
Improved Learning: The mobile app revolutionizes and enhances students' potentials, leveraging technologies like AR that have unlocked a flood of educational opportunities. With this app, learning becomes not only easier but also more accessible and efficient, benefiting students, including those with disabilities. The app provides a broad and extended learning experience, captivating their interest in education and fostering a deeper passion for learning.
With more practical learning, students can consume the contents precisely and store them for an extended period. In addition, Augment Reality has helped trainees to learn crucial practical lessons efficiently and effectively. Overall, AR app development has elevated educational experiences and improved people's learning. 
Enhanced Collaboration: Augmented Reality app development has a wide scope and has collaborated with several industries to make it easier for people to consume content. It initially collaborated with the gaming and entertainment industry, but now it is widely collaborating with huge sectors like healthcare, eCommerce, education, manufacturing, military, etc. 
AR has improved these sectors in terms of productivity and helped people become more aware of the technologies. Now even big companies like Apple have integrated AR into their latest product, i.e., Apple Vision Pro. 
New and Innovative Experience: We live in an era of science and advanced technologies, making our tasks more efficient. AR technology has transformed the digital world like AI and making it more accurate and precise. AR has helped people visit digital stores, interact with their products and services, visit faraway places, and have wholesome experiences. 
They also use it to learn, gain information more vividly, and get involved in practical learning. In short, AR has helped consumers to have a new and innovative experience while interacting with specific digital platforms. 
What Ways Of AR App Development to Enhance Apple Vision Pro?
It has integrated AR along with some technologies to make Apple Vision Pro a reliable and innovative device for users. So you must be curious to know how AR app development can enhance the Apple Vision Pro. Here's how it has enhanced the functionality of the device: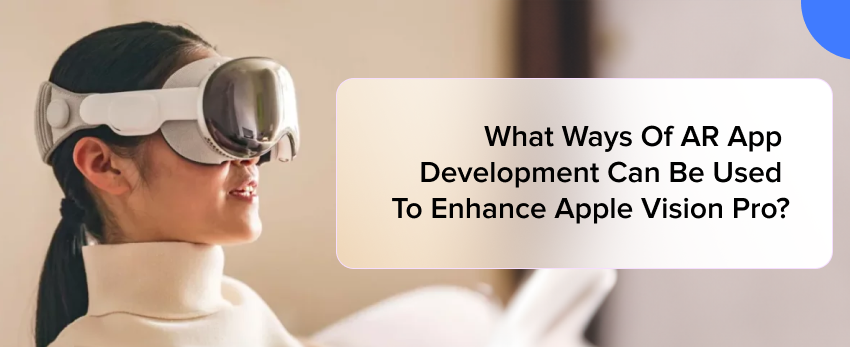 Apple Developer Documentation: 
One of the best parts of using AR app development to enhance Apple Vision Pro is transforming Apple Developer Document. This technology can help developers access relevant documents seamlessly, conveniently, and efficiently. More importantly, using AR for accessing and using Xcode resources. It will become much easier for developers regardless of their experience with Apple or IOS app development for different devices.      
ARKit
Another great way the AR technology can help enhance Apple Vision in the ARKit. This tool can help users leverage 4K videos to capture appealing high-resolution videos for superior AR experiences. Apart from the 4K video experiences, one can even use the ARKit tool to access depth API, scene geometry. And enhanced capture of images and videos, among many other things, with the Apple Vision Pro.      
RealityKit
AR technology has long played a significant role in enhancing the overall functionality of RealityKit. This AR-first 3D framework uses the potential of ARKit to integrate virtual entities and objects into real-world experiences. As a result, users get more superior experiences and realistic experiences based on the objects. Hence this is another way AR app development can help enhance the functionalities of the Apple Vision Pro.  
What Are The Challenges That AR App Developers Have To Overcome?
The benefits of Augmented Reality have always been noteworthy because of how accessible and efficient it is. It has collaborated with various industries and gave a new experience to users. Recently AR has been integrated with Vision Pro to provide an outstanding experience to users. Said that the developers are also facing some challenges which they must overcome to understand the full potential of AR. These challenges are: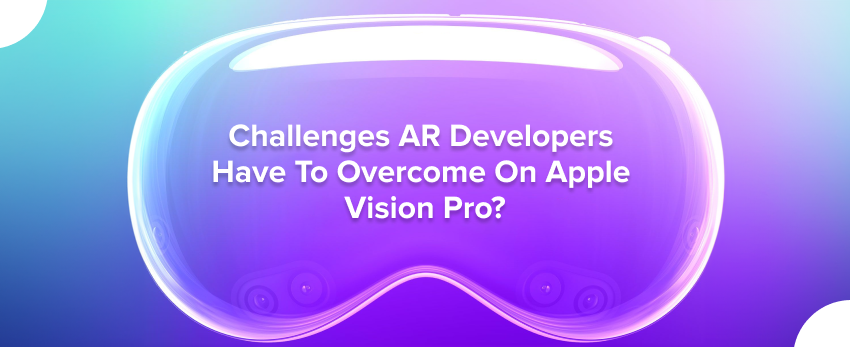 Hardware Limitations:
AR uses top-notch hardware like digital cameras, sensors/tracking devices, GPS, accelerometers, gyroscopes, compasses, etc., for sturdy functions. The developers may need help with adoption, interactions, performance, and usability, affecting the smooth and realistic experience.
Software Development Challenges:
Certain AR apps require specific extensions not supported by all browsers or may require different formats with the device. These issues can also affect the performance of Augmented Reality. So, AR developers must ensure the software is compatible with different browsers, frameworks, and operating systems.
User Acceptance:
With the evolution of technologies, people have made significant progress, but various sectors still need to make consumers aware of the benefits of AR. They still consider it a zany science that could harm. Because of that, they are not accepting Augmented Reality to use and integrate it. 
Feature Enhancement:
While the enhanced features of AR applications have provided people with a vivid and innovative experience, they may also require revision. People who need more expertise may be able to operate the app and interact with what it offers. So, this is another challenge that can stop them from exploring the full potential of AR.
Conclusion – Is That Enough? No. Rapidly Growing Technology Has a Long Way to Go!
The need for a software development agency is evident as Augmented Reality (AR) continues to revolutionize digital platforms, providing users with captivating and immersive experiences. Various industries are now seeking partnerships with AR app development companies to seamlessly integrate this cutting-edge technology. Notably, even industry leader Apple has embraced AR, incorporating it into their latest products.
Companies should consider hiring a mobile app developer, as this amazing technology is only at the beginning of its journey in the rapidly evolving and advancing industry. These developers must confront the challenges and limitations of AR to unlock its full potential. By doing so, they can create more interactive and accessible applications and devices that open up numerous opportunities for us. 
FAQs
What does Augmented Reality (AR) app development entail, and how does it boost the capabilities of Apple Vision Pro?
Augmented Reality (AR) is a software application that integrates virtual visual content and relevant audio and inputs in the user's real world. This unique technology can help enhance Apple Vision Pro in many ways, including providing users with better experiences, the ability to innovate, access learning, and more. 
What are the key benefits of using augmented reality apps with Apple Vision Pro?
Some key benefits of AR apps with Apple Vision Pro include increasing engagement, enhancing learning, driving better collaboration, and fostering innovations and experiences.
Can you provide examples of how an augmented reality app development enhances the functionality and user experience of Apple Vision Pro?
Some of the best examples of ways AR app development enhances the user experience and functionality of Apple Vision Pro are providing more immersive shopping experiences and transforming education and learning, among many other things.  
What technologies and tools are commonly use in augmented reality app development for Apple Vision Pro?
SwiftUI, Xcode, RealityKit, and ARKit are some of the most common tools and technologies one can use in AR app development for Apple Vision Pro.  
Are there any specific considerations or requirements for developers when creating augmented reality apps for Apple Vision Pro?
Some of developers' most important considerations or requirements when creating augmented reality apps for Apple Vision Pro include hardware limitations, user acceptance, challenges associated with software development.
How can augmented reality app development contribute to the future growth and advancements of Apple Vision Pro?
Augmented reality app development can contribute to the future growth and advancements of Apple Vision Pro in many different way. Then including helping users get immersive shopping experiences, and appealing try-on solutions, driving better tourism with real-time information guides. It can make education more accessible and interactive for everyone.