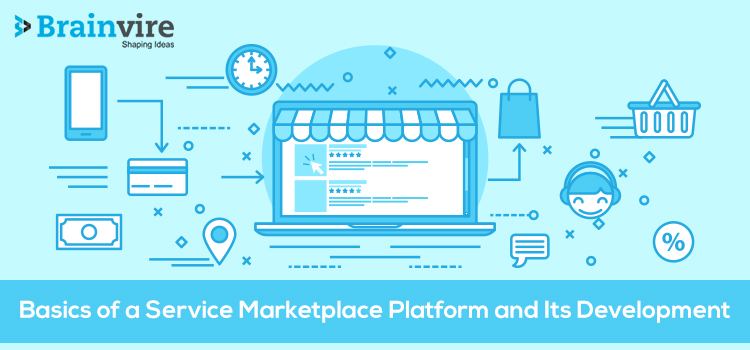 Service marketplaces (SM) have made their mark on the on-demand economy. The popularity of on-demand service marketplaces such as Uber, Fiverr, Freelancer, Consultants 500, Urban Clap, TaskRabbit, etc, is on the rise. For example, Fiverr clocks more than 1 million transactions every month.
A service marketplace initiates, facilitates, coordinates and concludes the buying and selling of services between service seekers and service providers. They cater to specific niches such as interior design, pet care, food delivery, home services, etc. It makes an existing marketplace more liquid, better managed, and transparent.
Business Models in the Service Industry
There are three different types of business models that are based on how the end users are charged by the service provider. They are as follows –
Transaction-based Model
In a Transaction-based business model, the marketplace charges a service fee on every transaction done on the platform. The transaction fee model is beneficial: the more sales your platform generates, the more revenue you bring in.
Want to convert your idea into a successful app or website? Schedule your free call with our expert now.
Lead-based Model
Professionals (suppliers) pay a fee to send quotes to customers. The platform introduces customers with professionals based on project requirements. The actual cost of this pay-per-quote model depends on the type of service the customer is looking for.
Subscription-based Model
In a subscription-based model, customers are billed on a recurring basis to avail the services as per their requirements.
I have summarized the benefits of these models in the table given below –
Business Model
Benefits
Example
Service Providers
Customers
Transaction-based

Pay a fee only if they sell something; no upfront costs

Pay a fee only if they buy something; no upfront costs

Task Rabbit

Lead-based

Get access to potential customers directly

Bidding processes are available to get better options

Thumbtack

Subscription-based

Robust customer insights for cross-selling or marketing

Low subscription fees are to be paid upfront

Alfred
General Workflow of a Service Marketplace
We have understood the business models adopted by service marketplace platforms. There might be differences in their strategies to attract revenue, but the workflow remains the same. The steps involved are as follows –
The service seeker signs-up on the platform and lists their job.
Service professionals, on the other hand, register in a particular service category and access all of the listed jobs. They can apply for a particular job by sending a proposal to potential customers.
The service seeker analyses the responses and chooses the best professional as per the requirement.
Development of Service Marketplace Platform
The goal of developing a service marketplace platform requires a novel thought process and precise planning. You need to consider three things before planning to start such a venture – budget, technical skills and the deadline for launching the app in the market. There are many approaches to get started with the process but I am listing four of them in this blog. Let's discuss them.
Hire a Team of Developers
You can get a marketplace designed, developed and configured by professionals who are well-versed in handling such projects. The best marketplace development company is the one that has a proven track record in web applications. Although this approach is an expensive one, the firm will guide you on every aspect of development and troubleshoot the issues that arise in the process.
Code Yourself
Coding a marketplace from scratch is time-consuming, especially if you are not a programmer yourself. Mastering the skill of coding will test your patience and you might even feel like giving up. I personally don't recommend this approach if you are not from a software background.
Build it yourself by using a service marketplace script
The script, or scripting language, is a set of codes that can be executed automatically. 'Clones' of popular marketplaces are available in the market for a decent price. You can easily replicate their functionalities in a systematic manner, and customize them as per your liking. Basic technical knowledge will do for this approach.
Pay service marketplace script providers to get the job done
It is not the same as the previous approach. Here, you will have to pay marketplace script providers to develop the product for you. Additional features can be added to the marketplace by tweaking the scripts. This approach is good if you have a moderate budget and want to launch a marketplace soon.
On an Ending Note
Service marketplaces are undoubtedly the future of an on-demand economy. You can get them developed by following any of the four approaches listed in this blog. However, you should ensure that they engage the end users and the costs fall within your budget.
Brainvire has developed a mobile-responsive marketplace that provides pet care services. If you want us to develop something similar for you, then feel free to get in touch with us at info@brainvire.com. We'll take care of the rest!