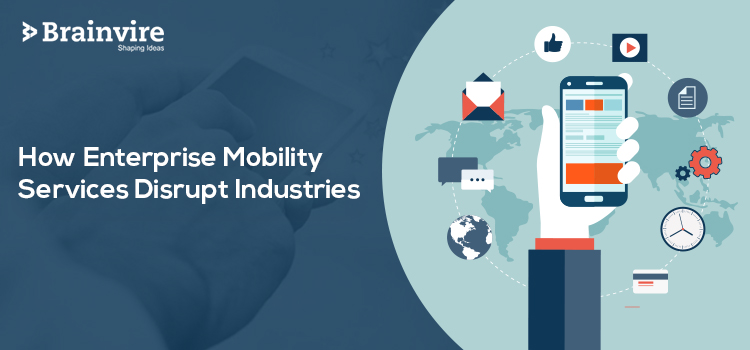 Enterprise Mobility is an essential part of digital transformation. It is a set of innovative technologies that aim to simplify the complex business process through available IT assets and resources. Enterprise mobility focuses on increasing mobile devices and wireless networks, allowing the business to interact with the audience intelligently.
Let's have a look at some of the encouraging statistics and numbers related to enterprise mobility services.
The enterprise mobility market is expected to grow at a CAGR of 20.62%. It is estimated to reach around $353 billion by 2023 as compared to $114.68 in 2017.
The Bring Your Own Device (BYOD) revenue is also forecasted to be around $318 million by 2022.
Enterprise mobile app and service revenue is projected to hit around $430 billion by 2021. Furthermore, 69% of the company departments are using 2 to 5 enterprise apps on an average, whereas 27% are using 6 or more apps.
Various Industries Getting Disrupted by Enterprise Mobility
Manufacturing Industry
The manufacturing industry is one of the biggest forerunners of digital transformation technology. It is one of the most competitive sectors that always aims at increasing output and improving quality at affordable prices. The manufacturers look at opportunities to expand their global presence.
How Enterprise Mobility Can Help
Enterprise mobility helps to enhance employee productivity and visibility. It provides more accurate information in real-time.
The manufacturers can get instant access to important data, which helps them in making quick decisions.
It ensures the mobility of on-demand data and monitors quality control.
Enterprise mobility streamlines the production process by resolving internal and external problems. This boosts the brand's image.
It establishes a good collaboration between various departments to deliver improved results.
According to Forbes, manufacturing units have seen a 13% rise in their sales within the span of the first six months of employing enterprise mobility.
Want to convert your idea into a successful app or website? Schedule your free call with our expert now.
Healthcare Industry
The healthcare industry has also collaborated with enterprise mobility. The futuristic technologies such as IoT, artificial intelligence, and blockchain are already fuelling the health sector. However, with enterprise mobile health entering the scenario, this picture is going to get larger. According to Grand View Research, the mHealth market is expected to exceed $151.57 billion by 2025 at a CAGR of 25.7%.
How Enterprise Mobility Is Helpful
The innovative technology provides improved patient care with remote consultation facilities. The patients can consult doctors using mobile devices.
Mobile apps help in seamless management of patient data through integration with the

enterprise IoT

.
It increases the efficiency of the doctors as they are able to make quick and apt decisions specifically during emergency situations.
Hospital management is able to seamlessly manage the stock of medicines and other equipment without creating any data errors.
Education Sector
The education industry is also reaping the benefits of inventive technology with both students and teachers finding it more convenient to acquire and impart education with online learning management system. It has made learning smarter with students attending virtual classrooms. According to Statista, the global mobile education market is estimated to reach about $37.8 billion by 2020.
Role of Enterprise Mobility
It streamlines the communication between the students and teachers where they can interact anywhere and anytime.
Students can view their assignments online in real-time to complete them within the deadline.
They can even view their examination results and adopt smart learning techniques. It helps them to record lectures, which they can view afterward.
Like healthcare, enterprise mobility has helped education reach out in remote areas.
It has also helped to improve the IT infrastructure. The higher management can make better decisions on upscaling educational institute.
Seamlessly manages student information such as payment of fees and class attendance.
Finance and Banking
Finance and banking act as a backbone for any global economy. They are also the main pillars for the growth of any business organization. Fintech technology in combination with blockchain and enterprise mobility has given a major impetus to this rapidly expanding sector.
One of the biggest turnarounds in the finance and banking industry has been the introduction of mobile wallets that have eased out the transaction process.
According to a research report, about 63% of users have at least one financial app installed in their devices.
It has automated the financial process of the organization allowing them to manage their accounts more conveniently.
The firms can generate invoices conveniently in real-time and also keep a check on pending payments.
Customers can avail all banking services in one go with just a few taps.
The banks are able to provide more personalized services to their customers.
Retail Industry
There is no doubt that enterprise mobility has made a big impact on the consumer goods and retail industry. One of the key influencers has been mobile commerce solutions. According to a survey, m-commerce sales are expected to increase to 44.7% in 2019. But they are also allowing retailers to use enterprise mobility, which is pushing the retail sector further.
It escalates the shopping experience of the consumers through multi-channel touchpoints and enhanced sales interactions.
Allows retail stores to digitize their catalogs like e-commerce sites.
Helps to streamline inventory management with reduced cost and time.
efficiently manage the orders and sales pipelines
Get real-time information to meet customer expectations.
Boosting the Point of Sale (PoS) to get more customers.
Media and Entertainment
Enterprise mobility offers a big boost to the media and entertainment industry. The visible impact has been the ability to converge all content in one place. It has helped in improving the user experience through high-quality digital videos.
The media companies can get real-time feedback from their customers for the program and content.
Enterprise mobility allows the personalization of content.
Enhance the audience base by sending push notifications.
Manage the advertising and contract system.
Offering

mobility solutions

for digital publishing and customer analytics
Shifting Business Process to Enterprise Mobility
Enterprise mobility has been one of the most important innovative technologies that have allowed businesses to explore new horizons. In addition, it has enabled the organizations to offer a more personalized experience to the customers. Thus, if you are also aiming to enhance productivity, efficiency, security, and save cost and time, get in touch with the proficient developers today.