News Flash: "America's research and advisory giant – Gartner has crowned Magento Commerce as Leader for Digital Commerce 2018".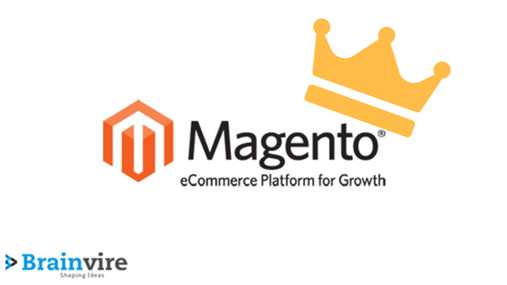 Talking About Magento Commerce Named a Leader by Gartner for Digital Commerce 2018, According to Gartner, Digital Commerce revolves around sea change of technologies or the way of providing future needs of users. It is not at all restricted to the current market scenario only. Digital Commerce market is basically a place where buying and selling of products and services are offered with digitalized technological solutions. Under the sphere of technologies, with digital commerce platforms selling module comprises the internet, mobile and social networks, IoT, etc. And on the other hand, customers are provided with an easy one-time click and buy approach.
Demand for Digital Commerce has sprouted many vendors, their price modeling, enhancing service offerings, etc. In this highly competitive market, it is difficult to shortlist ultimate platform but Gartner's transparent Magic Quadrant for Digital Commerce has accurately and comprehensively evaluated 18 big head vendors of digital commerce whose platforms are ultimate assistants.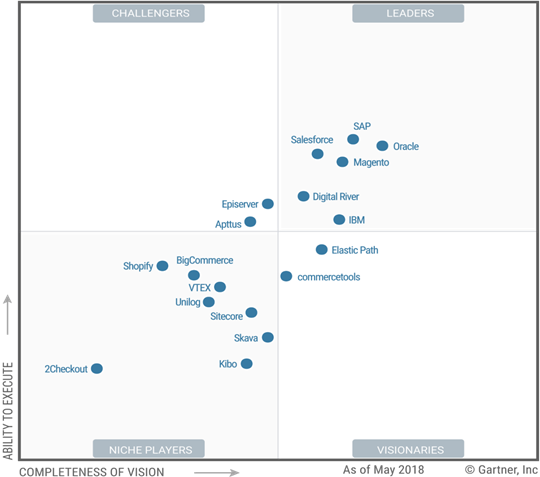 Image source https://www.gartner.com
Magic Quadrant has segregated in core 4 parts along with vendors,
Challengers
Leaders
Niche Players
Visionaries
Talking About Magento Commerce Named a Leader by Gartner for Digital Commerce 2018, Out of a pool of vendors, Magento Commerce has pulled its flag up. Previously known as Magento Enterprise Edition, Magento ecommerce development has provided optimum innovative cloud commerce platforms to uncountable merchants and brands falling under B2C and B2B market. Below are strength pointers that make Magento Commerce stand at #1
Active Community: You can scale Magento Community's base as dynamic. Its open source feature has shaped the community with apt developers who keep platforms up-to-date as per dynamic market needs and also check marks platform sustainability.
Growth and enhancing service catering network: Magento has gone through varied shades of growth. It is flexible and enables the building of dynamic services as well as it also provides modern solutions and products that can be easily integrated.
Complete suite: Apart from only buying and selling today it is necessary to drill down in E-Commerce. It is essential to take into consideration different marketplaces and to analyze customer data as these aspects pour out the real gist of digital business. Under Magento Commerce, there are varied services like solutions for Omnichannel, advance data & analytics, social selling sphere, etc. These solutions make Magento Commerce a robust suite. Magento Commerce has come up with Magento 2 version which improves the security, performance, speed etc, if you are still running your eCommerce store on the old version you need to Migrate to Magento 2.
Marketplace network: Integration of marketplace module is possible on Magento Commerce platforms. Sellers can flow out their services globally by incorporating big shot marketplaces like E-Bay, Amazon with full-fledged built-in intelligent pricing. Such marketplace integration upsurges e-commerce stores conversion rates and enables total handling of products under product management.
Along with selling what is the most important factor that leverages an Online Store? – Buying the pattern of shoppers. Today shoppers purchasing pattern changes every second. Magento's open source and agility feature cater services as per the dynamic needs of customers this helps in boosting sells, as well as customers, are also provided with the seamless shopping experience.
Magento Commerce is an ultimate platform that provides freedom to craft a distinct shopping experience. It has an infinite ability package of customization and easy third-party integrations. Magento Commerce's has built a global networking sphere under which merchants, allies, developers everyone can make visionary E-commerce business concept live.
Talking About Magento Commerce Named a Leader by Gartner for Digital Commerce 2018, Brainvire a leading Magento Ecommerce Development Company apt developers implement the latest technologies so that customers get satisfactory shopping experience and vendors can take their sells up. We use a leading platform that is Magento Commerce to build commerce solutions. So, we can shift your E-commerce base with trending and number one positioned platform – Magento Development Company
can make you stand out from the existing mass of competitive E-Stores.