If you're keeping track of your money, do you still use a workbook or an ordinary notebook? It will get more complicated to manage finances and conduct arithmetic as businesses expand and new technologies emerge. By streamlining and speeding up routine tasks, ERP solutions like Odoo Accounting may reduce overhead and increase productivity.
Odoo Accounting is an intuitive and reliable accounting system that accurately keeps tabs on your funds. Payments and invoices, bank reconciliations, reports, and more may all be handled in a centralized accounting program.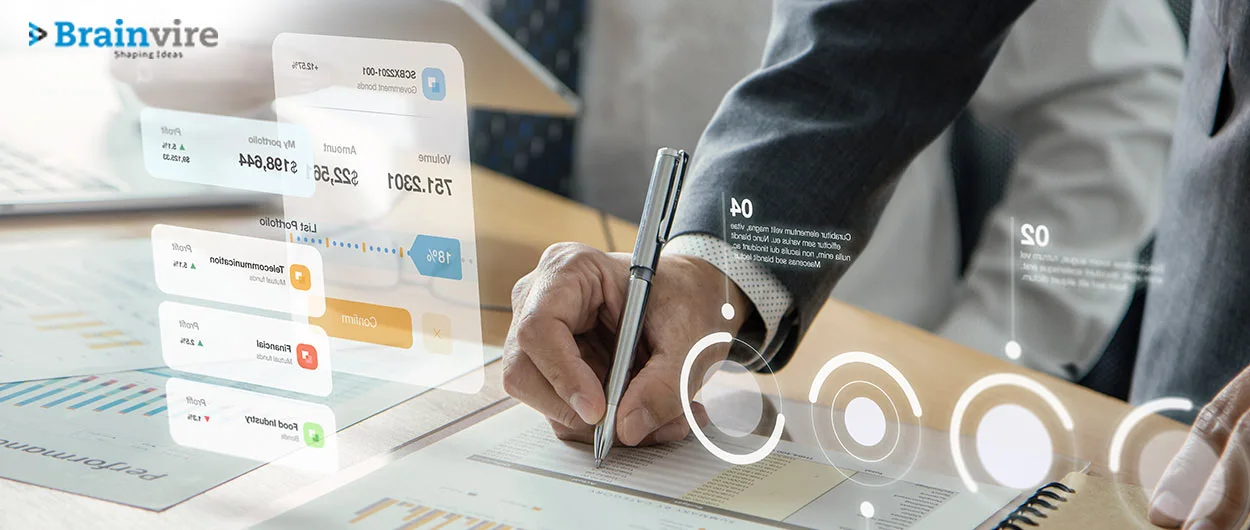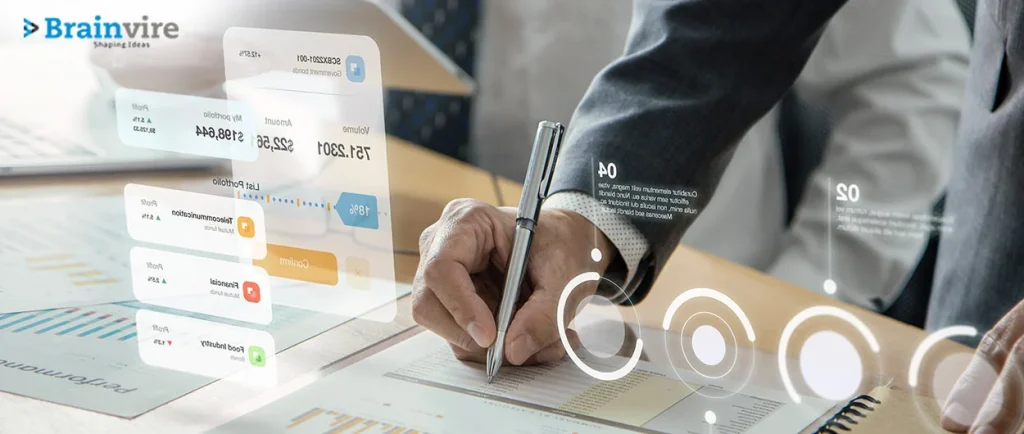 For a long time, Brainvire has been helping businesses in various industries reap the rewards of using and customizing the open-source business management software Odoo. Over the years of implementing company software solutions in Odoo, Brainvire has found that businesses generally have the same difficulties with accounting and financial administration.
When their company experienced rapid expansion, several customers complained that their accounting software, such as Quickbooks, no longer met their needs. As businesses grew, they found that the software's innate and systematic capabilities were becoming inadequate. Not being able to make scalar adjustments to the process was the most damaging consequence. In addition, as time passed, people began to doubt the reliability of the software's performance and its expected outcomes.
Many of our customers experienced this, and we found that it was because their accounting software was operating in isolation from the rest of their operations. Many businesses, rather than investing in comprehensive management software, have opted for point solutions that handle certain aspects of the company, such as sales, customer relations, POS, accounting, etc.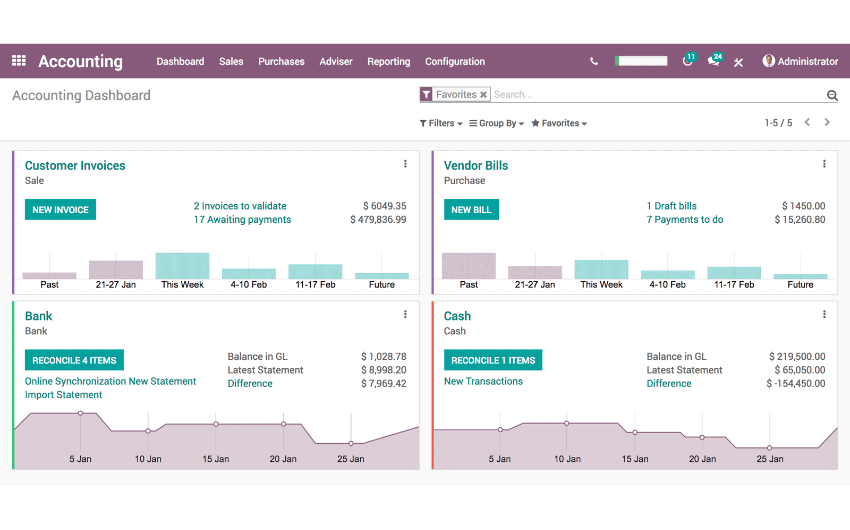 Odoo Accounting Software is a complete, affordable cloud-based accounting solution for small and medium-sized enterprises. Our firm is an Odoo partner, and we help other businesses set up and use Odoo. For instance, one of our Odoo Accounting experts Siddharath Chikani has recently paid a visit to the MiddleEast region in regards to rendering their extensive knowledge in the field and helping the client to establish a strong foot in their industry.   
[ Also Read : Integration of Adobe Commerce Cloud and Odoo POS for an Omnichannel Experience ]
In terms of accounting, Odoo is a good option since it's straightforward, has many useful features, is simple to use, and doesn't cost a fortune. In addition, this is a flexible option for enterprises of all sizes. Brainvire's primary offerings include Odoo ERP deployment from the client's current legacy systems, consulting to allow mapping the client's existing operations with Odoo modules and features, Odoo developments, training the client's personnel, documenting and evaluating the client's business needs, etc.
What is Odoo?
Odoo is a cloud-based software for managing companies. In addition to accounting and inventory management, customer relationship management and online sales are also supported. It was first introduced in 2005 and has become one of the most widely used enterprise resource planning systems (ERPS), with over 4.5 million users.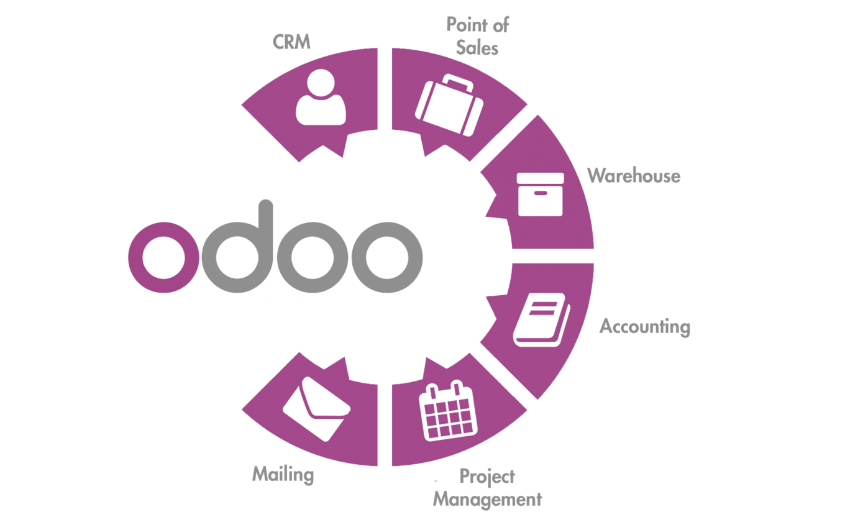 Odoo's popularity extends beyond only large enterprises; many small businesses also rely on and recommend the platform. This is because Odoo is packed with valuable features that make it ideal for enterprises of all sizes.
What are the advantages of the Odoo Accounting System?
Odoo is a advance system that requires little in the way of training or preparation. A seasoned professional can install and set up the program in less than an hour.
Since Odoo has a cheap monthly user cost, it is suitable for small and medium-sized organizations.
The software is scalable, which means it can grow with your organization as it meets your changing demands.
Odoo's modular design makes adding new features easy and adapting them to your company's needs.
Cost-effective: With it, you won't have to go into debt to launch a firm that would otherwise need accounting software costing tens of thousands of dollars.
Odoo's adaptability and versatility make it a good match for a wide range of businesses. Furthermore, it is open-source software, which means that hundreds of community-made extensions are available for it.
Accounting with Odoo: What Is It?
Odoo is modular, so you may only purchase the modules you intend to use. For example, a module that Odoo provides is accounting.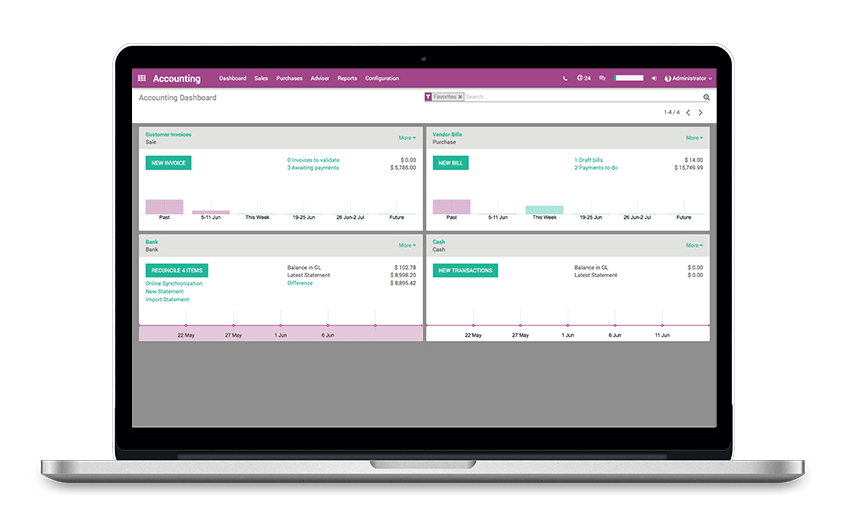 Connectivity between your accounting software and other company functions like marketing and customer service is essential. Having everything in one place ensures that all of the financial records are accurate and up to date.
Odoo Accounting Out of Box Solution
Contact Brainvire, an Odoo ERP development firm, for comprehensive Odoo ERP application development services suitable for a wide range of corporate purposes.
With time and development, Odoo Accounting has become a powerful business tool. Initially, it was designed to let SMBs handle their accounting requirements in-house, without the assistance of an outside accountant or IT specialist.
This is essential since the skill required for setting up software is frequently one of the most significant expenditures associated with installing such a program. So, what is the Odoo accounting software provider in terms of functionality?
In what ways can Odoo help with the accounting system?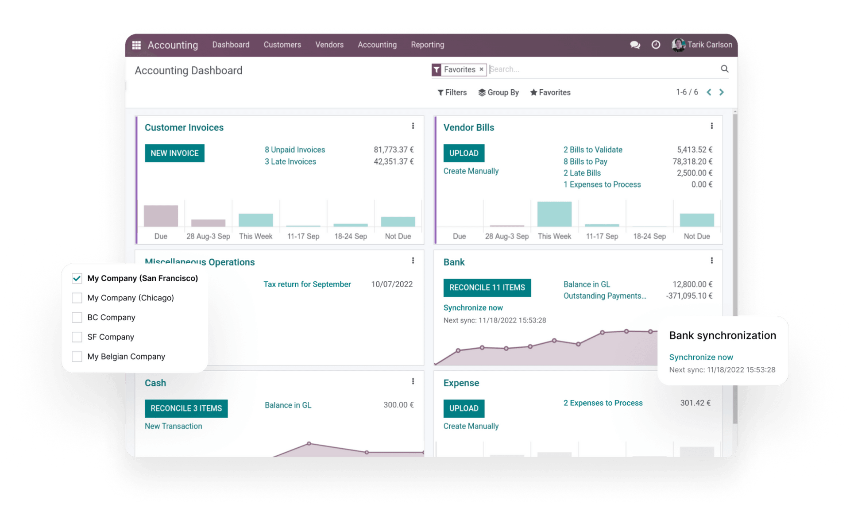 Accountants can assess a business's financial health by keeping records of transactions and keeping tabs on assets and debts. Odoo, a business accounting software company, has released Version 15. Odoo 15 accounting can be used to make, send, and reconcile invoices. It can also be used to process payments and audit financial statements.
Multi-Currency
Odoo works with any currency, and you may connect to several sources to receive the most up-to-date exchange rates. In addition, when using several currencies in a single transaction, Odoo accounting will automatically calculate and record the resulting exchange rate difference.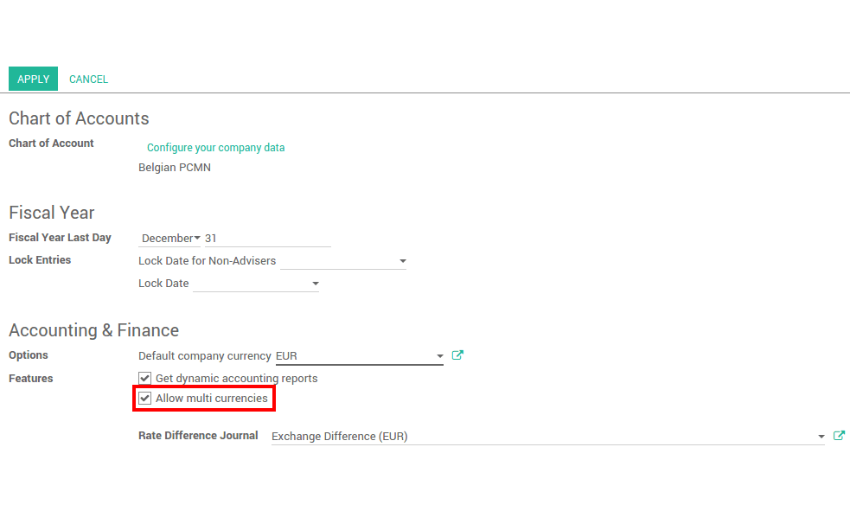 One of our customers, Amiviz, used our Odoo ERP systems to easily handle the organization's many duties across all of its divisions. And this is especially true of our Accounting solution, which includes the following components:
There are three types of legal entities.
Corporate mergers and acquisitions
Multi-currency
Odoo's multi-currency feature lets you accept payments in addition to your native currency, as well as send and receive sales invoices, quotations, and purchase orders in any supported currency. Aside from the obvious advantages of having access to many currencies, multi-currency also allows you to open accounts in multiple currencies and generate reports based on your dealings in multiple currencies.
Multi Companies
All of your affiliates may share the same accounting data and processes. Even if each firm uses a slightly different chart of accounts, you should still be able to generate a consolidated report. Intercompany flows may also be automated in Odoo Accounting based on predefined principles. You'll have a centralized hub from which to run the whole operation. As an example of how we put our Odoo ERP services to use for one of our customers, Larson Jewelers, we'll describe how we helped them streamline their day-to-day billing and accounts payable operations.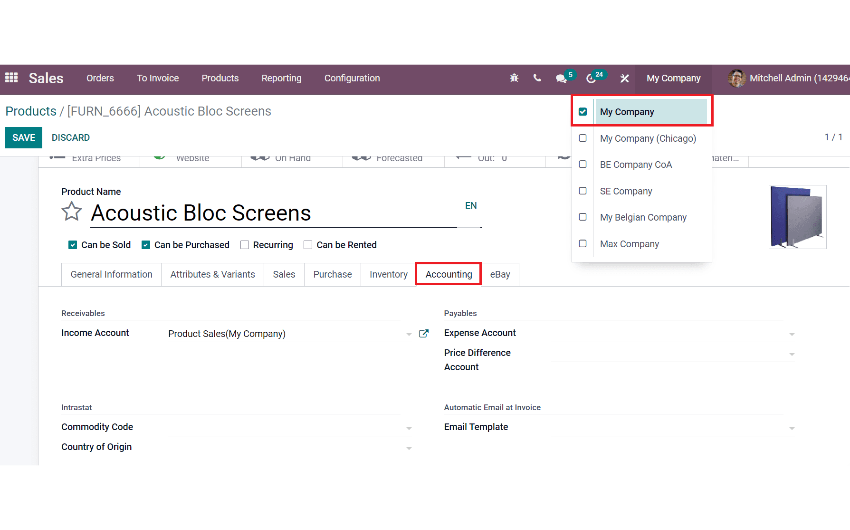 We integrated their two legal companies, intercompany transactions, payroll, and filing with modifications, billing, and payments into their Odoo ERP to provide a comprehensive picture of their present business state.
Reconciliation
Odoo's platform has built-in functionality for real-time reconciliation of firm bank accounts and other accounting-related platforms. The accounting module of the Odoo platform can be set up so that the company's bank statements are automatically synced with the platform at set times. Users will have access to more up-to-date information in real-time thanks to this feature's streamlined data reconciliation process.
It's also useful for multinational corporations since it simplifies the process of exchanging currency for use in other nations. Using this kind of connectivity, a business that deals in many currencies and whose customers pay in different ways (say, some in AED and others in USD) may have their transactions automatically translated in real-time to one of the standard units, based on the customer's preference.
Invoicing
Users may create sales invoices for items and services on the Odoo platform accounting software after passing through a number of checks and balances. Invoices may be generated automatically from the sales quote and emailed or personally delivered to each client. The Odoo platform enables users or field employees to create invoices for service times and utilized parts without returning to the office.
Real-time Reporting 
The module keeps tabs on the business's financials, sales figures, invoice information, and other metrics, all of which will be shown in reports by the system. These analyzed numbers will help users run their businesses and make informed decisions.
Brainvire is pleased to have supported the growth of companies like MBT Shoes, an e-commerce success story that has allowed its employees to work from anywhere in the world. Some examples of what we improved upon are the following.
Segment: To meet the needs of each customer, we segmented odoo accounting to meet their specific needs. The data, for example, was divided into sections based on factors such as the client base's geographic location.
Approval of a Credit Note is Dependent on the User's Credit Limit: If a credit note's balance becomes more significant than the user's predetermined limit, the note must be authorized by that user.
Commercial Invoice Report: You may do so if you wish to include or exclude a certain field from your business invoice report.
You can organize this real-time data in a number of ways by using filters and grouping. You may see the company's financial reports in several predefined forms, all of which include charts, graphs, and tables.
Ledger and a Chart of accounts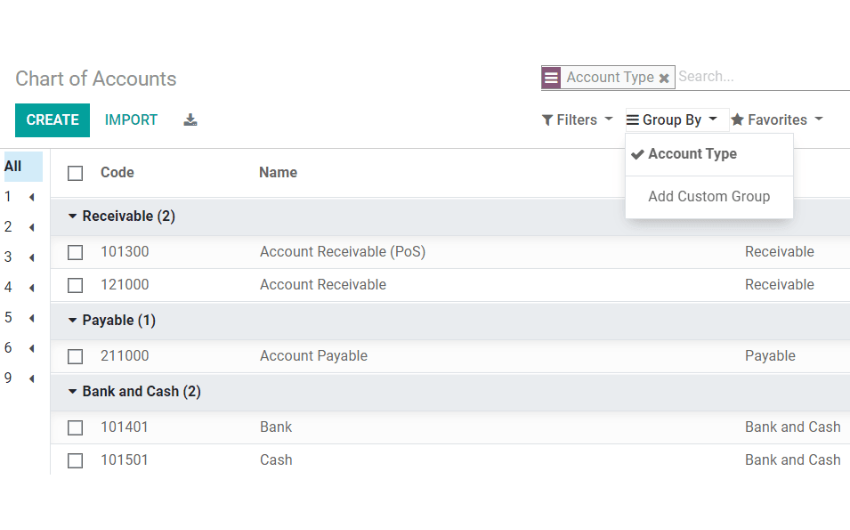 This module is meant to make it easier to keep accurate accounting records and set them up. These may be actual representations of the originals from the beginning. Users may filter and sort ledger reports to meet their specific needs. Also, the system lets its users create and keep track of charts of accounts, which include amounts that are due and amounts that are owed. These charts can be changed to fit the needs of the company's credit and debit operations in a wide range of jurisdictions.
Payment Follow Up
Odoo's accounting module lets users find clients who haven't paid for their services yet and get in touch with them. This option allows users to send out warning messages and displays the amount of money that customers owe to businesses.
Fiscal Year Settings
At the end of each fiscal year, a company's activities are summed up to show how well they did during that time. The accounting module of the Odoo platform makes it easy to set up fiscal years based on days and months in compliance with standardization criteria. The options for the fiscal year are tied to the official fiscal year that the government sets. Odoo provides a rundown of accounts due and receivable, letting users know when the fiscal year has ended. Odoo creates a general ledger account for payments that don't have a specific account associated with them.
Terms of Payment 
Odoo's accounting features let users detail payment strategies, including flat-rate and percentage-based down payments and direct payments. Odoo can also take deposits from clients, which is a common feature in the industry and leads to more sales.
Odoo supports using various currencies, which might be useful if your company works in more than one country. In addition, users will be able to transact with various firms from any nation thanks to this service.
Wrapping Up
Every company needs reliable accounting software. You may use it to monitor your company's revenue, expenditures, and tax obligations. If you use accounting software, your office might go from being a mess of papers to a well-oiled machine. Odoo is a great choice for businesses of all sizes, but it's easy-to-use interface makes it especially good for small and medium-sized businesses.
Not sure how to begin using ERP's many features? You may rely on Confianz for assistance. Our knowledgeable staff is here to help you set up your accounting software so that it fits your needs.
Odoo ERP setup support is what you need. When it comes to enterprise resource planning (ERP), we provide the most effective installation services using Odoo. So please don't wait to get started with us; call us now!
FAQs
What is a multi-company in Odoo?
Odoo's multi-company setup enables sales and purchasing processes to be shared across businesses using the same Odoo database. It also allows invoices to be sent and received across enterprises as part of coordinated workflows. In addition, the multi-company strategy provides for a single parent's consolidated administration of several subsidiaries. As a result, several firms might be engaged, each with its storage facilities, clientele, and inventory.
How to create a Multi-company in Odoo?
In the configuration menu, choose "General" and then "Configuration." Check: Choose a system that supports different currencies to manage many businesses. To stop sharing partners and publications across firms, deselect both boxes.
Is accounting available in the Odoo community?
The Accounting app in the Odoo corporate version has additional accounting functions, and the odoo community creates the Invoicing module. However, when it comes to increasing company efficiency, the Odoo platform includes a feature called the Odoo Accounting Module. The module streamlines the accounting department's workflow and makes it possible to monitor cash flow.