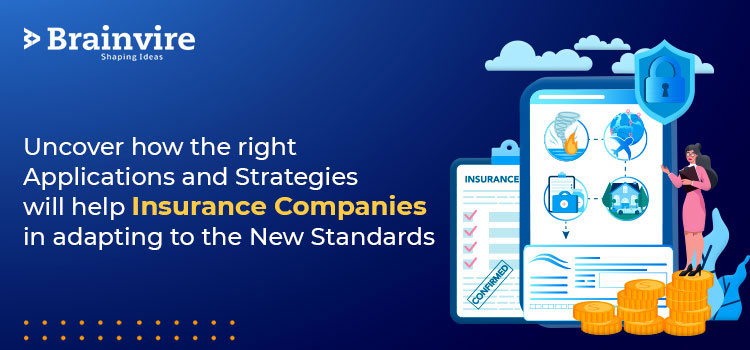 The Covid-19 spike made Insurance companies realize that they need to adopt new applications and strategies to unleash their reputation and nurture their customers. 
Though insurance companies were built keeping risk in mind, planning and analyzing risk are the core of their business. They weren't prepared for the uncertainties in the employment situation that occurred during COVID-19 such as business loss, lay-offs, unemployment, etc.  In light of these uncertainties of circumstances, taking up a new insurance policy or paying its premium is uneconomical for people. As a result, insurance companies will start to lose their customers. 
The solution here is: Insurance companies need to update their new business strategies to accommodate a new way of working.
Here is a list of few techniques that will help you achieve the same 
Extract value from customer data :
To obtain more and more data regarding their customers, insurers can provide rewards to the customers in the form of incentives for completing certain brand-building behavior and then use that data to develop new products and services. These incentives could be reward points, discounts, freebies, advanced access to newly released products. 
Make optimal use of technology :
Insurance companies are adopting AI-based tools rapidly around the world. With customers largely using smart tools gives insurers access to clients' data. And this allows large insurers to serve them with the kind of policies they were wanting to invest in for years.
AI-based technologies are profound in detecting frauds and breaches.
Want to convert your idea into a successful app or website? Schedule your free call with our expert now.
Limit the risk factor :
As Insurers, companies should provide new services to consumers to help them reduce their risks. For example, providing policies that cover for property damage, business interruption, employees' compensation, general liability, car's liability, etc. that also generate awareness about how to prevent your assets from hazardous activities. 
Ramp up the use of parametric insurance :
Parametric insurance, commonly known as index-based insurance, is the product that payout of predefined amounts when triggering events take place.  
Rather than having an underwriter perform an investigation, these policies help insurers save money by paying out immediately when a specified incident happens – such as a crop spoiling due to heavy rain, etc. Insurers can indulge advanced technology like blockchain into their annual strategy plan. These technologies offer a much lower expense ratio that further helps in managing combined ratios and broaden the use of parametric insurance products. 
Safe online purchase and easy return :
Retailers suffer losses when consumers return products they've bought either because of defective products or simply because they no longer need them. There are policies that can cover retailers for their losses. These policies offer better opportunities to all the insurers.  
Models for underwriting execution based on analytics should be included :
Many coverage areas that used to necessitate in-person visits can now be supplemented with digital data. A life insurer, for example, could use data from a prospective customer's medical history and other details instead of requesting a "live" medical test. Similarly, instead of assigning an investigator to a potential customer's house, a property insurer may use cloud-based technology to process images of the estate using owner-supplied pictures, drones, and AI.
Investigate markets that aren't served-well or covered-well :
With the help of advanced technology, insurers can investigate and participate in new markets to gain revenue. But due to pandemics, it's not been easy to serve these markets efficiently and profitably. With the rapid adoption of emerging technologies such as AI, machine learning, business intelligence, IoT, blockchain, Microsoft enterprise services, and many other technologies, insurers can revolutionize industry norms by defining and executing new business in these markets, economically and effectively.
Collaborate with the start-up companies
Lately, many banks have been collaborating with start-up companies for different purposes such as development,testing or maintaining, but insurance companies are still behind the league. The reason for this may be that the industry's rules erect tough competition. However, with insurers experiencing a revenue decline, now is the time to reconsider. Partnerships, acquisitions, and joint ventures are examples of ways to work with tech companies. Insurers may create new business models without relying on agents and brokers to sell their products in this way. Furthermore, these small-scale IT companies can assist conventional insurers in launching new products to market more quickly and strongly than they might on their own.
Provide Usage-based insurance :
Usage-based insurance is when the payable premium is directly linked with the usage of the insured product/service. It is also known as telematics insurance. Telematics insurers were crucial during the COVID-19 pandemic. Insurers were able to easily refund money to their clients, which seems to have increased interest in usage-based insurance (UBI). Telematics combined GPS with on-board diagnostics to monitor and map a car's location, condition, and speed. Furthermore, this technology is critical to UBI, which allows insurers to change rates based on driving habits.
Bottom Line :
COVID-19 has posed significant challenges to the insurance sector. Companies must devise new business strategies, reconsider important investments, expand verticals and target market, and tailor policies accordingly. This will also help in increasing revenue.
 Building the right kind of strategy and roadmap is crucial but for 10x growth, and hence, we would suggest companies to focus on digital transformation.  Companies that are investing in their skills and improving their customer relationships have a better opportunity to survive the crisis than peers.