This is the golden age of services, and, we're told, every company must turn itself into a service business to thrive and prosper. Executives swear by the world's service-centric view, but internally, they confess to one niggling concern: most businesses either don't know how or don't care about efficiently delivering after-sales services. Top managements the world over treat aftermarket services as a mere afterthought.
Challenging TouchPoints in Traditional Business Model
In the automotive industry, the days in which existing Automobile brands or dealers independently set the tone are over. The organization is being revolutionized by four megatrends: communication, autonomous driving, shared economy, and electrification. Each one of these patterns is solid, but their combination is profoundly disruptive.
The game is changing. Customers are seeking a new, modernized automotive sales course, driven by their experiences in other industries and the emergence of new technologies. Young consumers, in particular, are increasingly unhappy with the way cars are currently marketed.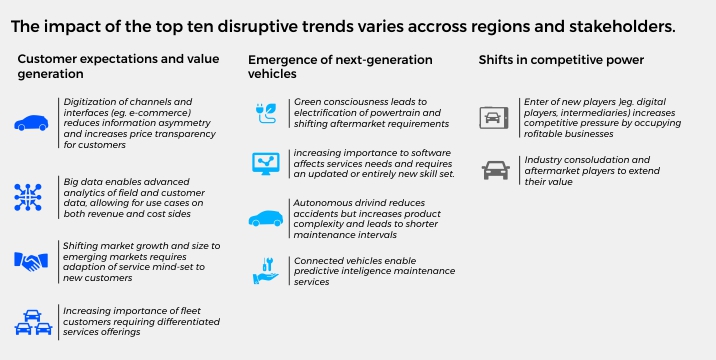 The evolving business climate has been tackled by new disruptors such as Byton, Canoo, and Carwow, offering futuristic vehicle designs at reasonable prices. Most notably, however, their transformation into an easy and comfortable experience of the customer's journey of buying a car presents a considerable challenge to Automobile brands or dealers.
In order to fulfill potential consumer demands and retain their competitive edge, this forces legacy Automobile brands or dealers to reimagine their distribution strategy and retail network.
In pricing, marketing and distribution, the conventional automotive sales model depends on independent dealers who play a central role. They produce the bulk of Automobile brands or dealers' new car sales revenues by buying vehicles from the OEM and reselling them to the end customers.
The traditional After-sales offline model has 3 noticeable drawbacks:
Unsatisfying customer journey- There are few online choices and the buying experience is inconvenient and is marked with breaks between networks.
Inconsistent prices and intra-brand competition- Inconsistent pricing generates intra-brand competition and lowers the profit margin of dealers by 1-3 percent.
No direct access to customers- Automobile brands or dealers ignore consumer knowledge and genuinely data-driven sales without clear attention to the customer.
AfterSales Customer Journey
The increase in the average age of consumer-owned vehicles has been a major trend in the automotive industry over the last 10 years. To extend the lifetime value of their cars, car owners are more likely to be on top of preventive maintenance and scheduled maintenance.
The consequence is that the automotive repair aftermarket industry has expanded dramatically and provides a lucrative, and often untapped, revenue opportunity.
The automotive aftermarket industry is projected to hit $1.0 trillion by 2022 globally, powered by a rise in the age of vehicles and global demand for automobiles in emerging countries.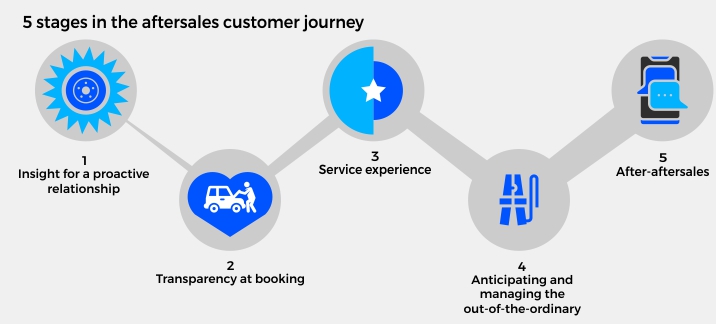 Hit by a drop in demand for new cars, dealerships are looking to raise their revenue and attract new service customers: after-sales service, sales of spare parts, repairs, updates, retrofitting equipment, inspections, day-to-day maintenance, and technical support.
Automotive after-sales operation, with high margins, can be highly profitable and can be a significant source of revenue.
"GM gained more money from after-sales revenues than it did from car sales of $150 billion."
But aftermarket service is frequently viewed by c-suite executives as a necessary evil rather than an opportunity.
Many companies, such as collaboration between spare-parts warehouses and dealers, are grappling with management challenges. If an organization does not pay attention to how sections of warranties and post-warranty work are structured and allocated, conflict may arise over goals and responsibility for inventory-carrying costs.
There is less risk of not satisfying demand and disappointing customers when a dealer is excellent in inventory management.
In the after-sales market, customer loyalty is key to success, and the after-sales market is becoming larger and car dealerships have a more significant revenue source.
The future lifetime service income increases with buyers holding onto vehicles longer, and it could be much less expensive to boost the selling of parts and services than to find a new car buyer.
"You get into the game by being on par with your rivals in performance, price, and quality: after-sales service can win you the game."
Automotive Aftermarket Trends
The current business value of the automotive aftermarket is around EUR 800,0 billion and is projected to rise by 3 percent annually to around EUR 1,2 trillion by 2030. Ten developments, in three large categories, will radically change the industry in the coming years.

There are three key consequences of these changes: disturbances in the supply chain, a shift in end-customer access, and a shift in benefit pools.
Disruptions in the value chain will be powered not only by existing players in the market but by new entrants as well. At the beginning of the chain, software and electric vehicle (EV) component manufacturers will come in.
The new nature of the value-chain would translate into greater price transparency across the entire value chain for the consumer. New touchpoints will be built, giving access to end customers to new entrants and threatening to decrease the access of end customers to other players.
In addition, automated systems and recommendations will increasingly be relied on by consumers. Last, due to the increased share of experienced fleet operators in the aftermarket, there will be a change from private to business needs.
As a result, benefit pools may change dramatically between steps in the entire value chain.
Areas of Digital Enhancement
We believe these disruptive effects present each stakeholder with a clear mandate for change. We suggest that all major players take pragmatic action to help them prepare for the new landscape and take full advantage of the opportunities.
Automobile brands or dealers to protect core business and improve their independent role in the aftermarket.
Automobile brands or dealers need to become more customer-centric and strengthen their approach to customer segmentation and experience in order to protect market share and sales volume. Furthermore, the adoption of multichannel strategies would help to protect the top line against digital entrants.
In emerging markets, shifting emphasis to the aftermarket is another lever that needs to be pulled. Automobile brands or dealers need to look further beyond new-car sales to become more interested in the conventional playing fields of the independent aftermarket as the share of older vehicles increases.
Suppliers to explore alternative sales, branding, and pricing strategies.
To improve direct customer access, suppliers should establish additional distribution channels. The introduction of a second price line with a distinct brand, forward integration along the value chain, or the provision of garage concepts to a wide range of workshops is successful industry examples.
At the same time, suppliers should also react aggressively to competitive pressure and competition through alliances with, for example, the strongest distributors or digital players, or through multi-brand strategies.
Parts distributors to intensify their digital service offerings.
One big commitment to ensuring that existing parts distributors are not edged out by new players with digital genes is to embrace digital and analytics. A digital and analytical emphasis for distributors can include optimizing their own online services, tapping into big data research, and engaging in customer data platform games.
It is also recommended that distributors select an effective growth strategy: smaller players should occupy lucrative niches, while large players need to concentrate on organic and inorganic growth to gain scale and retain high barriers to entry.
Workshops to professionalize for coping with increasing complexity.
Investing in recruitment, training, and facilities would be crucial to improving the capacity of workshops to handle the growing technical complexity of next-generation vehicles. They should invest in allowing a fully digital consumer experience on the customer-facing side.
At the same time, suggest a brick-and-mortar makeover to draw on a modern mind-set of customer service. Finally, workshops should explore ways to clearly position themselves versus competing networks.
Optimize asset deployment through strategic partnerships.
For automotive Automobile brands or dealers and suppliers alike, investments in autonomous technology, communication, electrification, and shared mobility (ACES) are a challenge. It makes sense for industry players to work together instead of competing alone, given the considerable resources needed and the need to deliver these solutions now.
The same kind of traction needs to be achieved by collaboration in the automotive industry. Auto-industry leaders face fast-growing and highly innovative tech players from EV and AV manufacturers whose leaps and pivots leave their slower-moving peers in the digital dust. Collaborations with other players also result in their success, making these arrangements more common.
Establish a strong decision-making cadence.
As consumers hesitate to commit to large-scale investments and want flexibility in a fast-changing environment, the COVID-19 crisis has strengthened the current trend towards greater flexibility. In order to adapt, many versatility players have already repositioned their deals to increase the flexibility of customers.
For instance, more rental companies are offering short-term leases as an alternative to car sales, and some Automobile brands or dealers are doing the same.
Embrace zero-based income statements.
Auto-industry growth was destroyed by the pandemic. Although plants remain shut down, owing to pandemic steps, many people are in short-term jobs or working from home. Instead of static budgets that reduce their degrees of freedom, a zero-based budgeting strategy should be embraced by automotive players and their revenue statements rebuilt from scratch.
A zero-based strategy will catalyze long-overdue improvements in the automotive industry, including the restructuring of manufacturing facilities, the removal of low-value-adding operations, and the dramatic reduction of investment in new non-critical properties.
The Automotive Customer of the Future
The automotive market offers an unprecedented variety of vehicles powered by diesel, petrol, natural gas, or with fully or partially electric engines, from compact cars to SUVs. The configurations are seemingly endless, with hundreds of different colors, tires, and interior designs.
And that's just the hardware. With Automobile brands or dealers investing heavily in connectivity services and apps, customers can actually produce their own unique car.
But the worldwide automotive sales volume is declining, despite growing customization and new connected technologies. In 2018, even the biggest automotive market, China, recorded lower sales.
So, what has changed?
Customers are seeking a new, modernized automotive sales path, inspired by their experiences in other industries and the rise of new technologies. Young customers, in particular, are increasingly dissatisfied with the way cars are currently sold.
Based on four factors, vehicle buyers can be categorized into three categories (changers, boomers, or traditionalists): how old they are, where they work, how much they earn, and what kind of car they drive. Today, Automobile brands or dealers do much of their business with Boomers and Traditionalists (customers between 30 and 50 years old) (customers above 50 years old). But the customers of tomorrow are those below 30 years old, and they have quite different demands. They are called Changers. Changers show a significantly different attitude toward cars than other customer groups.
While consumers are normally pleased with the product itself, 1 out of 5 Changers is profoundly disappointed with the way cars are currently sold. The key reasons for this frustration are the need to negotiate prices, not being able to shop online, complicated financing choices, and slow delivery processes, according to our survey of car buyers in Germany, the UK, and France. What they want is-
47% want to buy their next car online
69% are interested in doorstep delivery
73% want to buy at a fixed price
77% are interested in VR technology
9% dislike the configuration options
The standards of the automotive industry from Changers closely relate to what they are used to from other industries. The conventional way of purchasing and financing cars seems redundant, with subscription models being ubiquitous and financial technology start-ups transforming the way customers pay for goods and services online.
Our study reveals striking differences in how a vehicle is bought by Changers and Traditionalists. Traditionalists also enjoy the intimate experience of visiting a dealer and the personal contact with a salesman, while Changers use digital media and seldom visit a dealer.

And while online prices were compared by more than half of Changers before making a purchase, only a quarter of the traditionalists we surveyed reported using such online tools.
For Automobile brands or dealers, this means that, even before visiting a dealership or talking to a sales agent, a significant proportion of buyers have already made up their mind on which car to purchase and where to buy.
It is the client who decides at the end of the day whether or not they want to buy a new car. Today, while consumers are increasingly educating themselves online about new offers and models, they prefer to buy a car offline. This process is being transformed, however, with younger consumers and shifting consumer behavior.
Automobile brands or dealers need to rethink their sales strategy to meet the demands of tomorrow's customers and secure their market share.
The wave of Change in the Automobile Industry
Established Automobile brands or dealers face turbulent times. Sales of vehicles worldwide are decreasing, policymakers are pressing the industry to curb carbon emissions, and technology is changing the automotive market at record speed. With the booming economy of electrification, connectivity, and sharing, automotive sales seem ready for disruption.
Automobile brands or dealers selling directly to their customers
Digital players such as Amazon or Netflix have influenced consumers to expect new norms in terms of shopping and brand experience. The method of purchasing a car, in contrast, seems archaic. When the future of vehicle sales becomes increasingly customer-centered, the vehicles of the future can no longer be sold through yesterday's conventional channels.
Automobile brands or dealers communicate directly with their end-customers with direct sales to have a seamless, omnichannel end-to-end experience. Virtually all new and disruptive Automobile brands or dealers rely on direct sales, with some of the most popular examples being Tesla, NIO, and Byton.
For established Automobile brands or dealers, too, direct sales can unleash immense financial potential:
Up to 4% reduction in Cost of Retail based on local list prices
More than $1 billion of annual savings for an exemplary mid-sized sales region
Total FTE reduction of 3-7%, combining FTE ramp-up at the OEM level and FTE ramp-down at the dealer level
Break-even within 2-4 years depending on system and process maturity, market complexity, roll-out timing, and other factors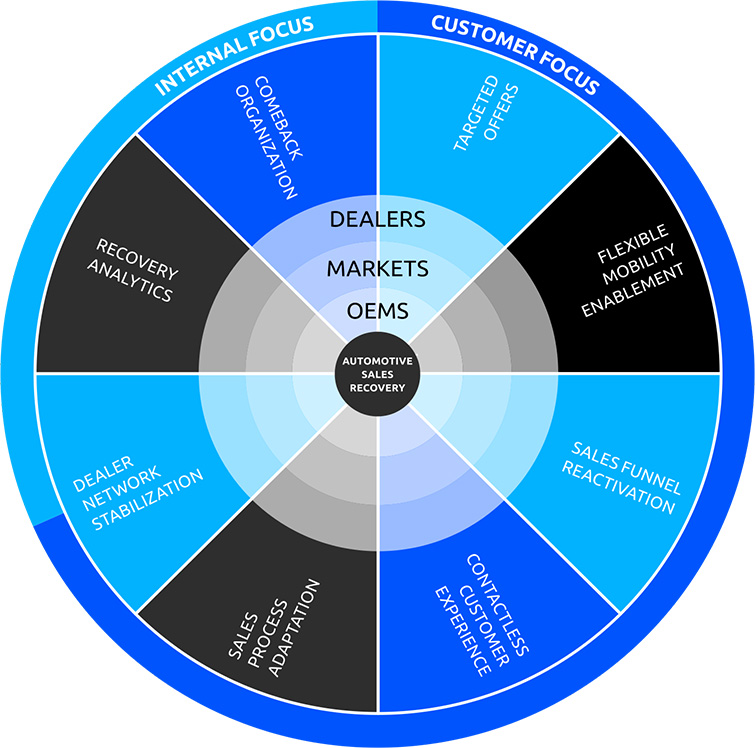 The Future Of Automotive Sales Is Exciting
Global automotive profits will almost double to over $344 billion by 2030, and emerging technology will account for more than 30 percent of profits by 2030.
New customer-centric sales strategies allow Automobile brands or dealers to tap into these large new pools of demand. Today, investing in the right technology, instruments and skills ensure that Automobile brands or dealers can take part in continuing development and succeed in the face of imminent disruptions.
Brainvire Transforming Automotive Industry
Brainvire provides a host of automotive solutions and services. The independent aftermarket for automobiles is a dynamic, robust, and highly competitive market offering a support network. Its multi-faceted and nuanced segments cover the entire spectrum of repair, maintenance, and service, from parts supply to fitting and maintenance.
Our association with Alghanim has been particularly special in terms of integrating digital solutions to boost the automotive aftermarket industry.
We developed multiple automotive digital solutions for the Kuwait-based automotive giant such as a CRM mobile application that enabled the client to improve sales and after-sales service and increase customer engagement by 37%.
Brainvire enables companies in the automotive and industrial sectors to develop a strong competitive base. To create digitization in the automotive industry, we combine our expertise with the latest technology and automation tools to quickly drive your automotive business around the globe. Reach out to us to get started on the digital transformation journey for your automotive business.