According to Deloitte, 37% of respondents at financial services firms surveyed say that their firm's culture has been deliberate and cautious in its digital transformation journey, while 38% are more advanced in their adaptation. Twenty-five percent are surpassing their peers.
Digital transformation also starts with the introduction of digital workplaces, where technology rather than a physical location facilitates collaboration and teamwork. 
Greater team unity leads to smoother and more accurate customer service.

Teams' ability to automate administrative activities and customize workflows, allowing them to focus on more complex and demanding tasks.

Critical events are escalated and resolved more quickly.

Greater accountability inside the organization
What a Digital Business looks like Today
While every company's digital transformation looks different, all digital companies have the same fundamentals characteristics.

Collaborative: Every employee in the company is actively interested in achieving a common goal. Building trust, foster openness, and involve workers, requires collaboration at all levels of the organization and through teams.
Cultural: Requires a shift away from traditional business structures and hierarchies and empowering employees to make decisions and contribute ideas.
Cloud-based: Cloud-based services are cost-effective and flexible, allowing companies to pick and choose which ones best suit their needs while reducing IT and infrastructure costs.
Innovative: Digital businesses are always experimenting and then learning from the outcomes to inform larger changes across the company.
Continuous: This is not a project with a start and finish date. Technology will continue to evolve, necessitating changes to existing procedures, which means you must continue to learn and evolve.
Data-driven: This includes not only collecting and analyzing data about your customers but measuring what's happening inside your company too.
Customer-centric: Ultimately, these shifts are all focused on providing a better service and a better experience for your customers.
Get the Ball Rolling on a company-wide Digital Transformation
Every company's digital transformation journey is special, but there are best practices for getting started. Business leaders will gain traction and employee buy-in to their digital transformation plan by concentrating on employee needs, processes, and resources.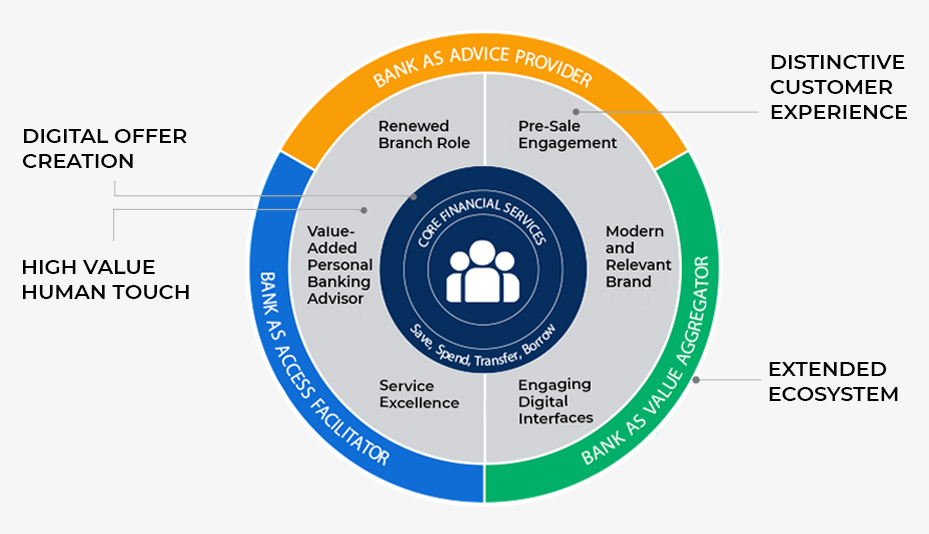 1. Supply the Vision
Change is stressful, particularly when it involves a project like digital banking and financial services transformation. According to the Boston Consulting Group, the secret to successful digital transformation is senior leadership's complete commitment to fundamentally transforming the financial institution: "Digital transformation must be a clearly stated strategic goal, backed up by adequate resources, talent recruitment, an openness to innovative agile working methods, and a willingness to take risks."
When describing the digital transformation that is taking place, don't forget to emphasize the why, as well as the advantages for both workers and consumers. This will give workers a sense of mission and keep them motivated.
2. Provide ongoing support and learning programs
While it is critical for senior executives to assist employees in learning new processes, technologies, and infrastructures as part of a company-wide digital transition in banking and financial services, it is difficult to direct everybody at the same time. Establish an internal champions network to provide continuous support to keep the momentum going.
Make it a point to have company-wide skill training for new technologies and processes implemented as part of the digital transformation. Invest in workforce training and growth to help them respond to changes and succeed in the modern digital workplace. Investing in your employees' development would aid in your digital transformation and keep them involved.
3. Invest in Digital tools that enable Collaboration
The foundation for a company's digital transformation in banking and financial services is laid by establishing a collaborative digital workplace. That's why it's important to invest in technological tools that enable knowledge sharing, company-wide collaboration, and knowledge management such as:
Document managers 

Content databases or internal wikis 

Workflow management software 
The company's data analytics efforts and operational trends will be optimized, and new Cloud-based offerings will be developed more rapidly. PwC recommends that you prioritize:
Updating your IT operating model

Simplifying legacy systems

Taking software beyond the Cloud

Adopting robotics/artificial intelligence
Banking Transformation Imperatives 
In only a few years, mobile banking has become commonplace, Open Banking has become a global phenomenon, and is still driving financial sector innovation. All of this is only possible because of the digitalization of the financial sector.

Many of the digital advancements are a result of companies reacting quickly to consumer demand for digital services. They have nothing to do with long-term growth, genuine accessibility, or the required level of digitalization in banking. This isn't, however, a lecture on banking's digital transformation. Using real challenges as examples, we will show how banking can meet customer demands for digitalization and embrace digital transformation both internally and externally.
1. Challenge: Digital Frontend, Analogue Backend
Meeting consumer needs is critical, but it's not as simple as slapping a "digital" coat on the business model in banking. Many services seem to be digital at the moment, but they are processed manually in the background. As a result, there is a significant disconnect between what customers see and what digitalization programs actually aim to achieve.
Financial institutions must adopt digitized business models to ensure long-term success in a modern environment. Those that do not comply will face that costs because all procedures with low levels of digitalization must be done by employees. Customers suffer as a result of a lack of end-to-end digitalization, which results in poor customer reviews and higher operational costs.
Solution: Fully Digital Solutions for Bank Customers and Employees
It is not possible to go from a non-digital or partly digital service to a completely digital service in a single day. This is why businesses of all sizes choose plug-and-play solutions that can be implemented rapidly and efficiently. Because of the relatively low effort needed, digital solutions can be applied throughout the entire organization.
The big difference is that an appropriate plug-and-play solution for the financial sector not only renders application front ends appear digital, but they also digitalize and automate complex processes. This digitalizes the entire consumer experience, reduces costs, and makes internal processes easier and more productive for employees.
2. Challenge: Digital Services Available, But Are Too Slow and Monotonous
By 2020, almost every bank will have an online portfolio of digital banking services. Few, however, have a genuinely broad range of products and services to their customers. In reality, complex goods are seldom available on the internet.  Innovative banking services such as digital contract managers or tailor-made loans are only offered by institutions with the highest digital banking index across the globe.
Customers who are tech-savvy have higher expectations: According to the ING New Technologies Survey 2019, 63 percent of consumers want financial service providers to provide a robust online service as well as the latest technology for financial management. They want to be able to buy their products seamlessly and in real-time, both online and on their mobile devices.
Solution: Increased Customer Focus with White-Label Banking
Rather than spending time and resources designing a wide range of products, a growing number of financial companies are turning to third-party solutions. However, this also results in a loss of consumer confidence and brand image, which are two of the most important advantages of existing providers.
White-label banking products with advanced features will help! They are completely functional and use the most up-to-date technologies, having been developed by seasoned technology and digitalization experts. Furthermore, they appear in the provider's name and design. Without the need for in-house growth, the customer's demand for creative, digital banking products is met.
3. Challenge: Digital Competition Is Always One Step Ahead
Proven financial institutions, with their wealth of data and reputation for trustworthiness, do have a significant head start. It's also true that many third-party vendors are better at meeting the needs of digital Millennials and Gen Z customers and doing so at a lower rate.
Whether it's in the form of comparison portals, online payment methods, creative banking applications, or innovative house banks, neobanks, FinTechs, Google, or Facebook, existing providers face stiff competition in the banking sector.
Solution: Cooperate Instead of Competing
Making an opponent into a friend isn't a new concept, but that doesn't make it any less successful. Strategic collaboration with third-party suppliers remains the easiest, fastest, and most successful way to set yourself apart from the competition.
It makes sense for some financial institutions to have the broadest possible selection of services. Various ways of collaboration can be used to create a full digital ecosystem around money-related topics. Customers would be pleased because they value having everything they need in one place.
Smaller businesses, on the other hand, can opt to specialize with specific partners and only occupy the customer interface at some stages, allowing them to offer higher-quality services.
Furthermore, FinTechs that specialize in data lay the groundwork for a greater understanding of consumer needs. They also ensure a targeted approach to customers and a data-driven, individually tailored range of services. For customers, this eliminates the need to switch to other providers.
4. Challenge: The Digital Bank Manager
People in the financial industry enjoy discussing technological processes. Digitalization, on the other hand, necessitates a shift in corporate culture. Sure, most financial institutions' software is out of date, but digitalization has a significant impact on internal processes. Furthermore, new digital products frequently do not function intuitively, resulting in widespread rejection across departments.
Solution: Not Only Digital but Simple and Agile
Employees should not be overburdened and should be able to innovate in order to help shape digitalization. Employees can participate in the internal digitalization process more easily thanks to agile collaboration models and simple-to-implement products.
The success of these rather small changes is down to the fact that they are simple but effective. Customers and employees alike really appreciate this.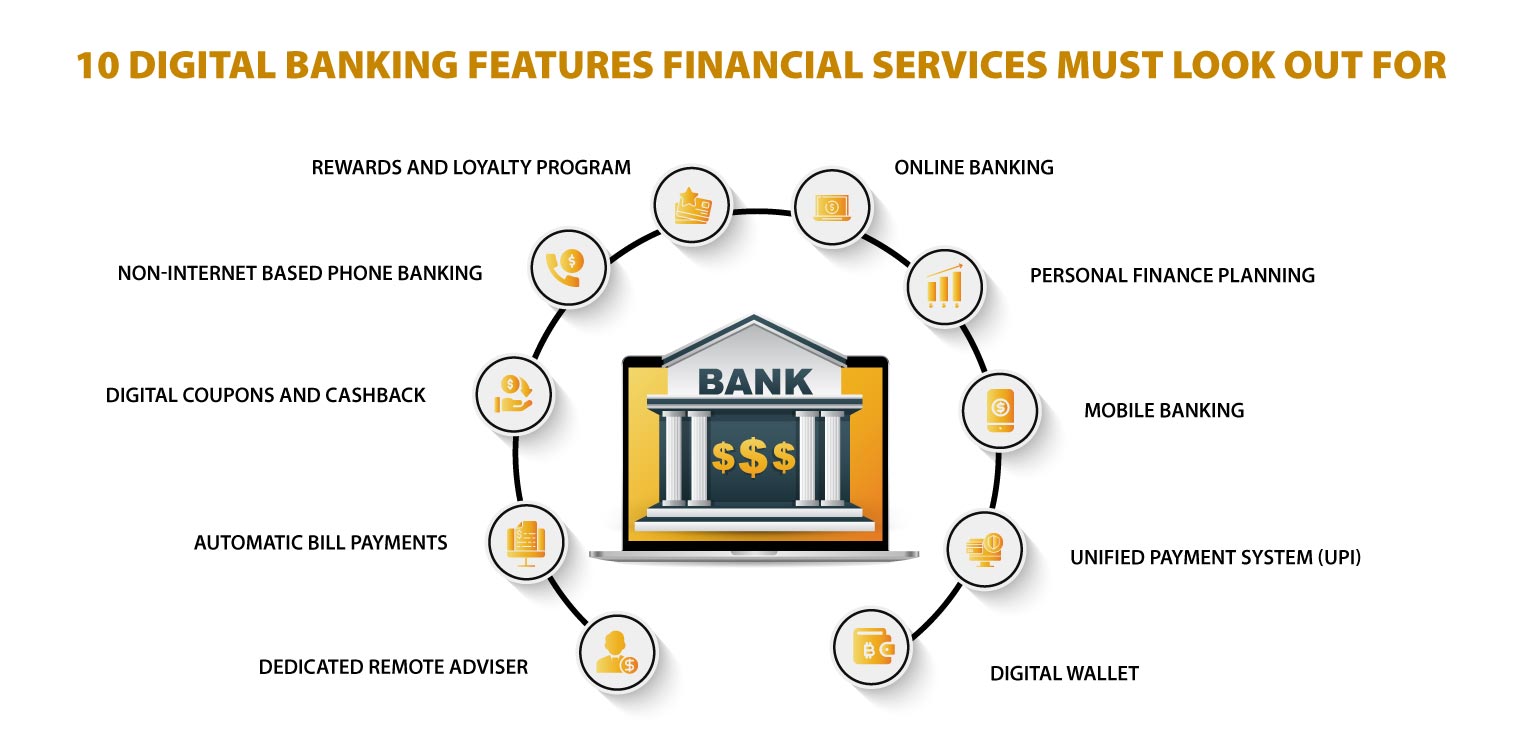 1. Online Banking
The online banking feature allows you to bank whenever and wherever you want.
Except for the time required for website maintenance, website services for internet banking are available 24 hours a day, 7 days a week throughout the year.
Most banks that offer online banking offer a variety of high-quality, technological solutions to make your banking experience simple and fast.
Most online banking systems offer the same common features, with only a few exceptions, and most of these services are given to customers free of charge.
Some of the common online banking features and services include:
View a summary of your account and transaction history

You can view or print your account statements and balances

Set up online payments and direct deposit services

Reorder checks for your account via the web

Some services allow you to export your account histories to third-party accounting software

Transfer funds from one account to another or make deposits which saves a lot of time and money for you.

Other accounts and services like CDs, IRAs, and others can be managed from the online account
2.  Personal Finance Planning
In today's banking industry, there is a lot of competition and most banks want to have an advantage over their competitors in order to succeed.
As a result, banks create sophisticated websites with a variety of banking options.
Loan calculators, premium calculators, financial planning software, tools to help evaluate finances, budgeting, forecasting, and tax preparation are just a few of the robust features of digital banking on specialized websites. Wealth management as part of banking has become an integral section of the role.
3. Mobile Banking
Unlike related internet banking, it makes use of software, commonly referred to as an app, supported by the financial institution. Mobile banking is usually open 24/7.
Banks have opted for innovative mobile app development to help in online banking from smartphones.
As a result, customers can conduct online banking at any time and from any place.
Banks create mobile-friendly websites and features to make banking easier for their customers. Money can be moved and bills can be paid with ease with only a few clicks on cell phones.
Mobile banking is also an environmentally friendly alternative, in addition to the advantages mentioned above. With the help of digital banking, a lot of paper is saved and other such areas like office space, travel, and so on are made greener.
4. Unified Payment System (UPI)
Unified Payments Interface is an instant real-time payment system developed. Money can be sent or requested with the following methods
Virtual Payment Address (VPA): Send or request money from/to bank account mapped using VPA.

Mobile number: Send or request money from/to bank account mapped using mobile number.

Account number and IFSC: Send money to a bank account.

QR code: Send money by QR code which has enclosed VPA, Account number, and IFSC or Mobile number.
5. Digital Wallet
Gone are the days when people had to bring cash with them when they went shopping. Mobile wallets (m-wallets), also known as virtual wallets, are becoming increasingly common. You can pay with these mobile wallets simply by using your smartphone.
M-wallets have become more common after demonetization. Digital wallets are one of the most innovative technological advancements. Millions of people are making payments from these e-wallets, which are easy to use.
6. Rewards and Loyalty Program
Product uptake and customer engagement are the two performance differentiators in banking today.
The good news is that they do not have to be mutually exclusive; even better, digital rewards and loyalty schemes will meet both requirements at the same time.
By integrating cost-effective and observable incentive and incentivization capabilities, these digitally integrated systems will challenge conventional consumer acquisition and retention approaches.
Creating more productive and loyal customers as a forum for business innovation and development.
7. Non-Internet Based Phone Banking
Consumer banking has also been made easier to use on computers that do not have access to the internet. SMS, Missed Call, and USSD Banking are examples of these services.
You only need to send a text or make a missed call on those numbers to use SMS and missed call banking services.
USSD banking lets you access a host of banking services just by dialing *99# from your mobile number and interacting with a menu.
8. Digital Coupons and Cashback
A coupon is a ticket or document used in marketing that can be redeemed for a monetary discount or refund while buying a product.
All the Indian banks give discounts on numerous items you use in your daily life through coupons and cashback.
9. Automatic Bill Payments
When you think of the number of bills you have to pay at the end of the month, for most of us, the answer is "too many". Rent, mortgage, utilities, car loans, different forms of insurance, student loans, and all of your other subscriptions are all on your plate.
Most online banks let you connect your bills to your account and have them automatically paid on time. Any bill you set up removes one more item from your monthly to-do list. This can result in a significant reduction in stress.
10. Dedicated Remote Adviser
Remote banking simplifies and streamlines your banking experience by assigning a remote relationship manager to you at all times. You may rely on a dedicated relationship manager to take care of all your banking and financial needs, whether during business hours or after hours.
Since we are all busy and always on the move, digital banking has designed Remote Banking to suit your lifestyle and preferences.
Conclusion
Every bank is investing heavily in technology, staff upskilling, and creativity as part of its digital transformation strategy. With dwindling deposit margins, fierce competition across a wide range of goods, and changing customer psychology, digitization is no longer a viable option.
This massive shift in the banking industry has benefited everybody. Digital banking has proven to be critical in the success of anyone from a small office employee to a million-dollar company owner.
With so many advantages available to us, it is difficult to imagine a world without digital banking. Brainvire has worked with global clients from the banking and finance industry. You can hire mobile app developers from our qualified team to develop loan management, wealth management apps, and digital solutions for the banking industry.