Maintaining an online shop might be cumbersome if you don't have any fresh ideas to bring to the table. Experts in the field of digital commerce stress the importance of online retailers staying updated with the newest developments in the industry.
Sometimes it's not always effective to keep up with the latest books on the topic, your competitors, or market trends, but it's always helpful to hear from professionals about their practical expertise in the field.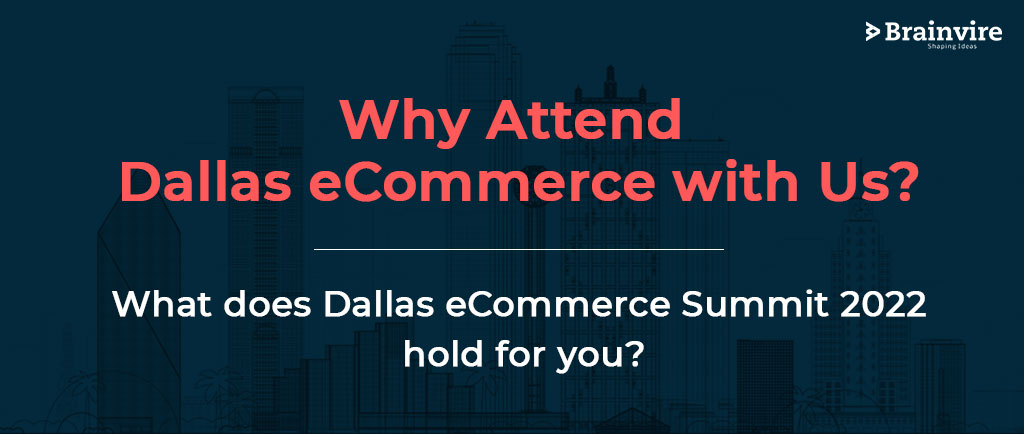 However, the best option is to participate in Dallas eCommerce Retail Summit, you can talk to specialists face-to-face and relay your questions, concerns, and ideas. 
So, if you manage an eCommerce store or marketplace or work in the retail industry, this is for you. Prepare to be inspired by the global disruption and innovation you'll see at this intuitive convention – Dallas Commerce Summit 2022. 
What is Dallas eCommerce Summit?
The Dallas eCommerce Summit is an exclusive live event that brings together local eCommerce experts and decision-makers from retailers, brands, merchants, and solution providers for a single day.
This event is intended to make a big impression, share ideas, educate, and network to expand businesses. Activities like Panel discussions, presentations, and one-on-one conversations will take place throughout the day on eCommerce strategy, marketing, operations, customer experience, payment, shipping, loyalty, and more. 
Brainvire will be participating in this and will be available at booth #21, sharing their own experiences, hoping to help firms achieve even better results.
Whom and How would it benefit?
Dallas Summit will be hosted at The Beeman Hotel on October 18th, 2022, where people like eCommerce business owners, digital marketers, online retailers, people working in operations, solution providers, CTOs, and other decision-makers of any company can visit, participate, network and interact with other industry leaders and experts about the future market tendencies, innovations, solutions, to achieve long term business excellence. 
Benefits of Attending Dallas eCommerce Summit 2022
Relevance
Hear from prominent eCommerce figures and gain insight into emerging trends.
Networking 
The best way to find what you're looking for in your professional universe is by networking or making an effort to meet and interact with individuals who work in similar fields. Attending sessions, setting up a booth, or attending a reception all put you in the company of people that could help you advance in your business.
Education
What you can take away from these experiences is valuable. Make the most of this chance to learn as much as possible. Learning from others is crucial to future success, whether looking into new technology, procedure, or vendors/supplier.
Anticipate what lies ahead
The more emails, tweets, and webinars you read and watch in your field, the more they start to sound the same. Although these are great supplementary readings, a more in-depth look at "what's next" in your sector from a front-row seat can provide the spark for innovative ideas and strategies that put you ahead of the competition. In marketing, especially digital marketing, having an "early adopter mentality" might mean the difference between success and failure.
Become a Subject Matter Expert
An excellent method to get noticed and take the next step toward becoming a subject matter expert (SME) in your field is to attend relevant summits, events, or conferences. Speaking at such gatherings typically involves well-known figures. These professionals are engaged in the sector and trying to raise their profile. This is the place to begin if you're ready to make the next step.
 Seek Assistance
When you network with others in your field on a site that encourages sharing ideas, you may find a partner who can help you get things moving in the right direction.
Meet Brainvire at Dallas eCommerce Summit 2022
Attend Dallas eCommerce Summit 2022 and meet Brainvire experts at booth #21. Leverage the opportunity to learn from our experts and stay abreast of emerging digital marketing trends like:
About Brainvire 
Brainvire is a Digital Transformation Agency that provides strategic digital solutions and digital road maps. 
We are an Odoo gold partner and an Adobe B2B and B2C implementation partner that has helped enormously and most admired businesses succeed in today's dynamic marketplace by providing in-depth knowledge of your customers and extensive resources in strategy, digital, technology, and operations. 
With over 20 years of experience, we have helped the most admired brands worldwide, like fox sports, Fossil, Tend and Table, Hamptons, IIFl, and more, in building digital solutions that deliver exceptional customer experiences.
So, if you want to revamp your digital commerce business, the Dallas eCommerce Summit 2022 is the right place to be, and Brainvire experts are the right people to meet.