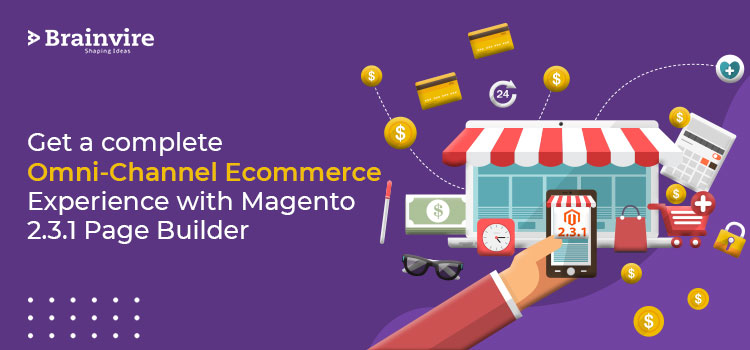 Are you a Magento developer and feel the need for a visual design editor in the platform? Well, Not anymore! 
A Page builder will serve all those needs as efficiently as possible. The page editor is the latest feature introduced by Magento 2.3.1. It Is developed with the motive to enhance eCommerce platform capabilities and streamline web page creation. This functionality is highly intuitive and not at all cumbersome, providing users with a wide scope to design and develop pages without touching the lines of code, anyone without proper technical skills like HTML and CSS can leverage Magento Page Builder to create landing pages, promote content, and manage items.
Magento's Page Builder works like a charm for developers as it helps them save time, money, and effort to build and edit Magento pages as per your expectation
Want to convert your idea into a successful app or website? Schedule your free call with our expert now.
let's discover below about its helpful functionalities:
Save Time, Money, and Effort
You can create complex, content-rich Web pages in minutes, without involving programming languages.
Visual Intuitive Drag and Drop Interface
Build responsive and highly functional pages and manage content layout easily by dragging and dropping pre-built controls.
Comes with 50+ Widgets 
Magento 2 page builder comes with 50+ Magento widgets that are readily accessible. These widgets can build the richest content page of all time.
Responsive Page Layouts
The "design in" toolbar allows you to configure responsiveness and optimize pages for a range of devices such as a mobile, tablet, laptop, desktop, large-screen desktop, etc.
[Also Read: How to Set up Tax Rules and Related Configuration in Magento 2]
Block Builder
Another major feature is block builder. It lets you build a block and then assign it to the position as you want.
Bootstrap Grid View System
Quick and seamless modifications in the block dimension with Bootstrap Grid System. 
Easy to use 3rd Party Extensions
Add more functionality to your page with 3rd Party extensions. 
CMS Builder 
This allows you to design the front-end of a CMS website seamlessly, without indulging into extreme programming. You can design, preview, and finalize the page's layout.  
CSS Skin Builder
This feature allows you to edit your visual appearance easily. You can select and change the sections via different options.
Lifetime Support and Regular Update 
Once you purchase Magento page builder, you will get lifetime updates, free support, and detailed documentation to help you through the configuration which help in Magento development.
How does a Page Builder work?
Now that we have discussed the  functionalities let's understand about the working 
The basic components of Page Builder are likely different from those of Bluefoot or the default Magento CMS. This Page Builder uses JavaScript and UI components heavily. It consists of the following functionalities:

[Also read: Tips for Magento Ecommerce Development – How to Improve Your Online Magento Store for Better Sales?]
UI components describe a backend type (XML)
The primary template is a frontend output template (HTML)
A mapping between input data (in the backend form) and output data is included in an XML configuration file (in the master template)
A JavaScript engine that populates the master template with the appropriate field values and saves the resulting HTML to the database
Additionally, the Page Builder module to the Magento 2.3.1 platform has vastly extended content management capabilities for merchant retailers. 
Now they can, Engage buyers with responsive pages and compelling content.
Writing magnetic and compelling content is critical for any e-commerce platform and with page builder, it can be easily done. Create pages that engage customers with powerful content styles like photos, videos, and banners, and gain high traction with an intuitive drag-and-drop content management system that keeps content fresh and up-to-date.
By enriching product information pages, easily adding items to content pages, and optimizing product discovery with personalized content on category pages, you can combine content and commerce. You can also make your page look dynamic by adding different interactive elements such as buttons, promotional banners, forms, and so on.
Page Builder allows users to create and save templates for future use. These templates enable designers to be consistent with their design patterns so each page is unified with similar styles, layouts, colors, fonts, and more. The module offers the flexibility to override those settings for those who want to use their code with different fonts, colors, and layout options.

If you are looking for the right Magento development company to take your business to the next level, Hire Magento ecommerce developers from Brainvire today.
SEO Friendly
Page Builder was designed to be SEO friendly, so users can add keywords, optimize the pages' title tags, URLs, Write compelling Meta Descriptions to the pages they build. This will help search engine crawlers to search and find your page titles and descriptions presented in search results and will rank you at the top of SERPs. For retailers that own multiple e-commerce websites, Magento Page Builder has sorting capabilities that span multi-site architecture. This capability allows users to create all the pages necessary for multiple sites from Page Builder and specify which site they will live on.
[Also Read: The PWA Edge: Magento PWA Studio vs Vue Storefront]
Marketing got Easy for Retailers
Marketers have complete control over the layout of their content pages and can build without requiring front-end developers. With customizable content templates, design and customize page designs that fit your brand voice, then add and stage elements with the drag and drop option. You can add and regularly update interactive content. The module also allows users to schedule the content and launch it any time they want. This feature is very helpful especially during peak shopping seasons like the holiday season when sales and promotions could be changing daily. In-Page Builder, users can create promotions and schedule them to begin and end, as well as create specific pages to populate with related products.
Magento 2.3.1 platform's Page Builder module has vastly extended content management capabilities for its online retailers by reducing technical development requirements on the back-end, which allows you to build great web pages on your own. And in case you cannot manage to do it by yourself, there is always an option of hiring a Magento development company or an eCommerce development company.