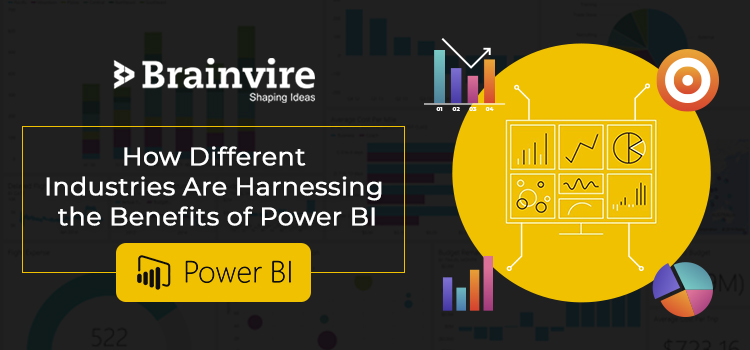 Talking About How Different Industries Are Harnessing the Benefits of Power BI, Business Intelligence and Big Data are driving the business forward today. But with Microsoft introducing  Power BI Development, we have seen witnesses to a game-changing transformation. Power BI is Microsoft's business analytics solution that offers interactive visualization and simplifies Business Intelligence. Business enterprises can create their own reports and dashboards. 
Currently, the market value of Power BI is about 4.48% with almost close to 10,000 companies already using it. 

Technologies such as the Internet of Things, Artificial Intelligence, and others have fostered digital transformation. It is necessitating the need to analyze and share data insights in real-time amid various departments of the company. It allows enterprises to be able to take quick apt decisions based on the available data. 

Power BI has also integrated with Microsoft Azure, allowing the business to take leverage in cloud-based analytics. It also helps to process complex data in a simplified manner. 
You can find in detail how Power BI is empowering the business to travel to the next-generation platform. Thus, if you want to access large volumes of data in real-time, generate reports, and reap other benefits, it's time to implement Power BI. 

We will now carry forward the discussion on Power BI to view how it is disrupting the various industries. 

Retailers Getting a Competitive Edge 
The trends in the retail sector change in a quick time. Moreover, retailers also have to face the challenge of fluctuating customer moods and expectations. 
Power BI allows customers to engage more with their favorite brands. Analytics also helps brands in managing their data to enhance customer relationships. 

Power BI enables retailers to have a competitive edge with dashboard facilities and real-time customer insights. 

Business enterprises can keep a close eye on pricing, current inventory, and stock and POS activity amongst others. Thus, you get access to-

Topmost product categories 
Performance by Sales Managers
Year-over-Year (YoY) sales analytics and figures 
Maximum Sales by the product division 
Addition or Reduction of Items from Categories 
Want to convert your idea into a successful app or website? Schedule your free call with our expert now.
Seamlessly Run Manufacturing Operations 
Are you looking to escalate your manufacturing cycle and streamline the entire process? Power BI has an Optimum solution to your needs. 

If retailers have to cope with changing trends in customer demands, manufacturers need to monitor and collaborate with live data to optimize the operational process. 

Power BI lets the manufacturing sector analyze performance metrics in real-time with machine learning technology. It also initiates efficiency in manufacturing high-quality goods. 

The Power BI Dashboard provides assistance in checking inventory levels and monitoring the supply chain. 
They can also view real-time data from a plethora of sources on a single dashboard from any device. The concerned authority is immediately informed about the loophole, which reduces the response times. 

With Power BI, the manufacturing sector can-
Instinctively analyze the YoY variation through the headcount and expense category. 
Monitor Revenue using EBITDA (Earnings before interest, tax, depreciation, and amortization)  and division. 
Identify Loyal and top Customers are 
Keep a track record of balance sheet trends 
Ideally Benefiting the Finance and Insurance Sector 
Finance and insurance companies have huge data gathered from various multiple sources. All this data is paramount and needs a robust fortification. 

If the organization can secure and manage the data adequately, it can help the business unleash deep insight to build customer relationships. Moreover, it can leverage several other benefits. These include marketing products at a quicker pace, controlling costs, identifying opportunities, and minimizing risk factors. 

Power BI in combination with other innovative technologies such as Microsoft SQL Server, Excel, and MS Azure supports finance and insurance companies to gather, store, mine, and analyze data in real-time.   

Cloud-based systems and business intelligence dashboarding tools help businesses securely connect with huge amounts of data.  Various data sources include Microsoft Excel sheets, Salesforce, Azure, Google Analytics and IoT-based devices. 

Power BI is incredibly useful in-
Streamlining the company's finances and accounts 
Monitoring the performance of a branch 
Accelerating the insurance claims settlements of clients 
Generate interactive reports in quick time  
Enhancing Patient Healthcare with Real-Time Data 

Talking About How Different Industries Are Harnessing the Benefits of Power BI, The healthcare industry is one of the fastest-growing sectors to harness the benefits of powerful data. We are aware of how the Internet of Medical Things (IoMT) has revolutionized the medical field. 
Modern healthcare institutions are all driven by digital data, which can be shared with much ease. Thus, doctors can access all important health parameters to take quick apt decisions during emergency cases. 

Power BI is a potent vehicle providing Hawk-Eye View with key data insights from various sources. The data is usually available in Electronic Health Records, Healthcare Management Systems, IoT connected medical equipment, outdoor patient registration, and billing reports, etc. 

Power BI offers all these vital data information to healthcare professionals that help to minimize treatment costs, improve patient services, and abide regulatory compliance. 

Medical practitioners can also keep an eye on the patient's current health status and monitor the progress in case of critical illness in real-time.  

We can cite a case study by Montfort Hospital in Canada, which has implemented Power BI to offer improved healthcare services. The technology has helped hospitals reduce risk and save more lives in highly critical cases. 

Power BI Boosts the Education Industry 
The education sector does not lack either in reaping the advantages of Power BI. Educational institutions are using off-the-shelf software available in the market and taking the benefit of data visualization solutions. 
The administrators have to make all important decisions based on data. This is where Power BI plays an essential role. It helps the administrators to get real-time insights on student enrollment, preparing the course curriculum, monitoring the academic progress, and more. 

Also, the educational institutions and universities are using data analytics dashboard. The Power BI solution helps to upload data from various departments that can be accessed by both students and teachers. 

University officials can keep a track record of students graduating each year. Moreover, the cloud-based service also helps them in recruiting the best faculty for a given position. 

Let's take the example of Hillsborough Community College. The educational institution used a data analytics dashboard for its Near Graduation Program. The result of implementing the analytics dashboard was that the number of graduates increased by 69% in 5 years. 

The dashboards help to simplify the Board of Educational Organization. A properly designed Power BI dashboard can cater to the needs of different audiences. There are different types of dashboards that offer flexibility and visualization tools such as-
Student Dashboard 
Enrolment Dashboard
Course Dashboard 
Tuition Dashboard  
Embark Your Journey With Power BI 
Talking About How Different Industries Are Harnessing the Benefits of Power BI, The prime concern of Power BI is delivering value to various industries and clients across the board. Data has become extremely valuable and powerful in today's competitive scenario. 
Power BI allows businesses and enterprises to access deep data insights and analytics in real-time. It helps them to remain up-to-date with metrics related to team performance and revenue generation. They can also identify upcoming opportunities and monitor market progress.