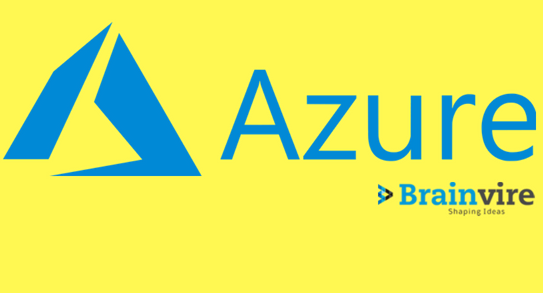 Talking About Why Azure & Dot Net Are Technologies Of The Future, Azure and Dot Net are considered the technologies of the future. What exactly are the specific features and offerings that make these two platforms so future-ready and different? To get a proper understanding on this, let's delve a little deeper and probe the reasons that make these awesome technologies futuristic; from how these technologies function to why they are so great for developers and end-users.
What is Azure?
What can be done with the help of this platform?
Benefits of Azure
What's Dot Net?
Benefits of Dot Net platform
Let's talk about Azure first and then proceed to Dot Net.
What is Azure?
Azure is a cloud-based platform that is trusted, fast and provides high-end data storage solutions for all kinds of businesses. For many companies that deal with high amounts of data or files with huge file sizes, the requirement for high storage capacity hardware is a necessity, not an optional choice. But again, for many of these companies, purchasing that sort of hardware may not be affordable. This is where Azure Development comes in. It allows individuals and companies to store its data on the cloud, without needing hardware whilst being assured of its safety.
What can be done with the help of this platform?
You get the freedom to build, manage, and deploy applications using your favourite tools and frameworks. In addition to this, there are 54 global Azure regions – this is a huge number, more than any other cloud provider, enabling your business to build its applications on a massive global platform. Azure is available for businesses of any kind. Regardless of whether you're an old business or a new venture, big or small you can get the benefits of this platform.
Benefits of Azure
Pre-Made Components- Azure cloud computing provides pre-made components necessary for back-end support and database to store the required information. These components are web apps, databases, and a notification hub. Web applications are components for the back end written in Dot Net or JavaScript. Notification hub is a component for sending push notifications to mobile applications. Azure's components like web apps and databases are connected and the connection is encrypted, providing strong data security.

Productive– It's highly productive. It offers an unparalleled developer productivity with end-to-end development and management tools. It turns your ideas into solutions faster and with safety.
Hybrid- This hybrid cloud provides you with an opportunity to go beyond mere connecting your datacenter to the cloud. This ensures an increased developer productivity. Build apps and deploy in cloud or on-premise, a total flexibility is attainable.
Intelligent- Build bots and advanced analytics tools with the help of a comprehensive set of services, infrastructure, and tools specially designed to build AI-powered experiences.
Trusted- Azure is undoubtedly the most trusted cloud service provider available.
What's Dot Net?
Talking About Why Azure & Dot Net Are Technologies Of The Future, A free, open source app development platform that supports cross-platform development across Windows, macOS and Docker. Dot Net tech covers both time and functionality and developers are able to create different kinds of applications such as Web, Mobile, Cloud, Internet of Things, Desktop, Augmented Reality, Virtual Reality, etc. Dot Net is available for MacOS and Linux. It's an open source platform so developers will be able to make improvements and add functionalities leading to faster development. Dot Net initially supported limited applications when it was first introduced but today it has evolved a lot and keeps evolving.
Benefits of Dot Net
You can now build any kind of app using the Dot Net framework. It provides endless possibilities today in building the applications.
There are approximately 50 languages that are supported by the Dot Net framework.
Dot Net consists of 5 major components- Common Infrastructure, Dot Net Standard, Dot Net Framework, Dot Net Core, Xamarin.
There are different developers' tools available for different platforms; one for each – Windows, Mac, and Linux. This doesn't mean that the operating system used is not a differentiating factor. It's beneficial to use Dot Net for web and mobile app development.
The language used in Dot Net technology is C#. With C# language, developers have the opportunity to write all types of software. So only one language is required and this is a huge advantage of using the Dot Net for development.
Summation
Talking About Why Azure & Dot Net Are Technologies Of The Future, Looking at the above-mentioned features, it's quite evident that the Dot Net technology has improved a lot and enables developers to create applications for operating systems other than Windows too. Similarly, Windows Azure Development being an ever-expanding set of cloud services, helps your organization face its business challenges. It's Truly For All!
Contact Brainvire a leading dot net development company for Asp.net development services and Windows Azure Development Services.