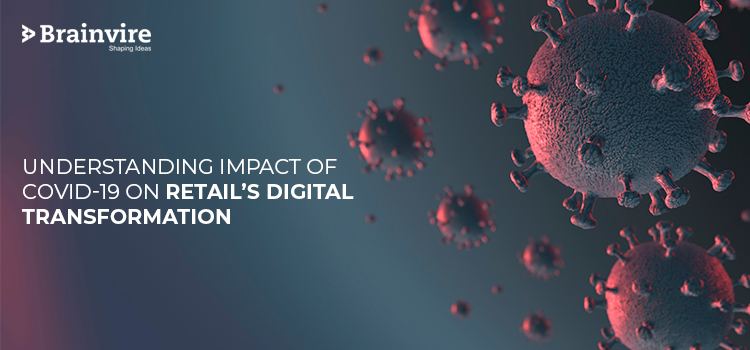 With the entire world practicing social distancing amid the Coronavirus pandemic, the retail industry has undergone a massive transformation.
Here's a stat showing an enormous change in the customer's supermarket shopping behavior:
Source: Nielsen
The present COVID-19 outbreak has pushed the majority of retailers to take the digital leap to ensure their business is up and running. Also with the world's crucial factory, China, spiraling in this chaos, it is time for retailers to rethink their models and transition to the online world.
Here is a stat showing how China's retail eCommerce sales have witnessed a downfall during this crisis:
This article helps understand the impact of COVID-19 on the retail industry and how digital transformation is the key to stay afloat for retail IT solutions!
Here is what we will be talking about:
Retail Industry's Online Transformation – Unavoidable Future Changes
Challenges Faced by Retailers – Handling Risks & Inventory Disruption
The Benefits of Digital Transformation
Digital Transformation & Retail Banking
Post-COVID-19 Trends – The Future of Retail Industry
Going Digital – The Transition of Retail Industry to The Online World
Helping Retailers With A Smooth Digital Transformation
Before we understand the influence of Coronavirus on the retail industries, let us address the real question.
How Exactly a Retailer Needs to React to Sudden Change?
With more than 25% companies creating a new plan and over 30% of them modifying the existing one, this stat shows how businesses are reacting to this pandemic.
Source: Financial Planning
In short:
The retail industry has to rethink and re-evaluate the way businesses can leverage various technologies. They have to come up with innovative approaches that help boost their revenue amidst this pandemic.
Several retailers are already on the path of digital transformation while some of them have started benefiting from those modifications made earlier.
Presently, transparency, pricing, fulfillment, and workforce – these four areas have taken a huge hit amid COVID-19. These are the essential areas that retailers need to focus on and bring out the entire potential of digitalization.
Want to convert your idea into a successful app or website? Schedule your free call with our expert now.
Online transformation has pierced deep into every nook and cranny of the industrial sector. This majorly includes mass media, manufacturing, banking, healthcare, finance, etc.
Businesses are shifting to the digital world to make their services available for the customers and improve their revenue.
The entire idea revolves around the customers' requirements and other factors like business operations, external communication, technologies leveraged, and the employees.
When it comes to the retail industry, here's what retailers have to do:
Rethink the way they can take advantage of technologies
Look for approaches that helps increase the revenue
Create innovative and new business engagement models
With advancement in digital tools and technologies, retailers have to make the most of it. These tools will have a bigger impact on their services alongside their workflow, management, and inner culture.
With most people purchasing things from luxury goods to food and toiletries online, it has been estimated that 20% of grocery sales will be online by 2025.
Check this stat showing the increase in revenue of retail sales in US:
The road to digital transformation also presents boundless possibilities for your employees. It helps them gain essential knowledge while mastering creative skills.
On the whole, this is a long process. With one change leading to another, retailers have to be prepared to face any impact on the elements entailed in the online transformation procedure.
Challenges Faced by Retailers – Handling Risks & Inventory Disruption
The process of digital transformation is no mean feat! Since it isn't an invariable process, companies cannot fully foresee the future steps. It is essential for them to be open to challenges.
But to help you with a smooth transition, you can prepare an in-depth transformation strategy.
Here are three challenges that you're likely to face:
1. Finding Solutions to Fulfill the Customer's Requirements
With different customers having different expectations and preferences, the retail industry has to come up with solutions to fulfill their needs. The present situation demands companies to be flexible and nimble.
Along with your customers, retailers also need to focus on streamlining the inner-organization process and maintaining complete transparency between departments and its employees. 
Source: Business Wire
2. Determining The Technologies to Be Leveraged
You need to immediately identify the technologies that can be leveraged to bring your ideas to life. Hire a team of IT professionals, whom you can seek expert advice from.
With an experienced team, you can quickly finish your projects and make them available to your customers.
3. Analyzing The Data
You have access to various channels offering essential data regarding your customers. But to take advantage of it, you need to analyze it properly.
Fortunately, with numerous equipment available to analyze the data, you can use them to better understand your customers and their demands. It also helps create customized offers and deliver exemplary user experience.
The Benefits of Digital Transformation
The online transformation process for the retail industry isn't as easy as it sounds. But with a detailed strategy and result-oriented focus, you're all set to walk down that lane. 
Opt for this transition and enjoy the following benefits:
1. Easily Connect With Customers
By transitioning to the online world, you can connect and communicate with your customers with complete ease. You can interact through various mediums such as chatbots, websites, social media channels, and mobile applications.
2. Enhanced Business Functions
Leverage the potential of cloud-based platforms to enhance your business functions. The use of advanced tools and technologies also help lower the time required to share essential data with customers and boosts client's support. 
3. Easy Shopping for Customers
Credits to Artificial Intelligence (AI) equipment – customers can purchase products with ease. With AI, you can streamline your crucial processes and deliver better shopping experience. You can also sell products via both physical and online stores.
4. Increased ROI
Transforming to the digital world enables retailers to develop multiple income channels. This further helps you reach more customers which in turn improves your ROI.
5. Exceptional User Experience
Digital transformation for mobile and wireless industry has a huge impact on the customer experience offered by you. Technical equipment accelerates your operations, helps you provide services efficiently and quickly, and delivers superior experience to the customers.
Source: ZDNet
With the entire idea of online transformation aimed at customers, it only helps you take the business up a notch!
Digital Transformation & Retail Banking
Since banking is a part of the retail industry, even banks must be transformed to the digital world.
With the entire process being customer-centric, retail banks can easily use the customer data to their advantage. The data can be used to create innovative solutions that improve the customer experience.
Use Blockchain, IoT, and AI, to scrutinize your information more accurately, streamline your process, and lower the paperwork.
For example, online banking has made it easier for customers to handle their accounts. They no longer have to stand in queues to get their issues resolved. The online world has also made banking services easy-to-use.
But to emerge as winners, retail banks need to offer unbreachable security.
Customers are trusting you with their hard-earned money and want it to be safe. For this, banks need top-class tools and digital technology that offers just that.
Post-COVID-19 Trends – The Future of Retail Industry
The worldwide economy has been turned upside down and the retail industry is facing a huge downfall. But with digital transformation acting as the 'silver lining', there is still scope for retailers to get back in the game!
Also now is the time to transition your business to the digital world because post Corona things won't be the way they once were.
Here are some of the trends that will be the future of retail industry:
1. Mobile Apps
Mobile applications are the best way to connect your physical store with the customers. People can search for products, read others' reviews, offer feedback, etc. They can also get in touch with your support team to resolve issues.
If you haven't created an app for your store, now is the time to do so. It provides countless benefits such as streamlines purchasings and reinforces your bond with the customers.
The catch about a mobile application is, you can improve your services and add additional features whenever you want.
2. Augmented Reality
Augmented Reality (AR) is by far the best tool. It offers your customers the opportunity to view and try things without coming to your store.
This stat shows that nearly 71% customers prefer purchasing from retailers provided they're offered AR in the shop:
For example, IKEA offered the customers to select furniture for their house via their application. All they had to do was – point the camera to any spot in the house and the app provided them with various options matching their interior.
3. Virtual Reality
Virtual Reality (VR) is a top-notch technology to create and grow your business. It is a solution that has the potential to improve your customer experience by letting customers check homes and cars without leaving the house.
Going Digital – The Transition of Retail Industry to The Online World
While several retailers are already on the path of digital transformation, some of them have started experiencing its benefits.
The detailed data insights and new revenue channels – all credits to the latest technologies – have it possible for retailers to grow the business. 
So as of now, there is no stopping the transformation process. Also the retail industry is about to experience a massive boost because of these digital technologies.
Retailers need to do just one thing – come up with a strategy and work on achieving your goals. This is enough to optimize your business process and improve the shopping experience.
Helping Retailers With A Smooth Digital Transformation
The influence of COVID-19 differs for every retail business.
Since order fulfillment, workforce, pricing, and transparency have faced tremendous impact, it's important for retailers to come out all guns blazing now more than ever.
At Brainvire, we empower retail businesses and their manpower with exceptional solutions for a smooth transition to the digital world. If your business is all set to take this big digital leap and make the most out of this present situation, then Brainvire will help you with it. You can contact our team today!