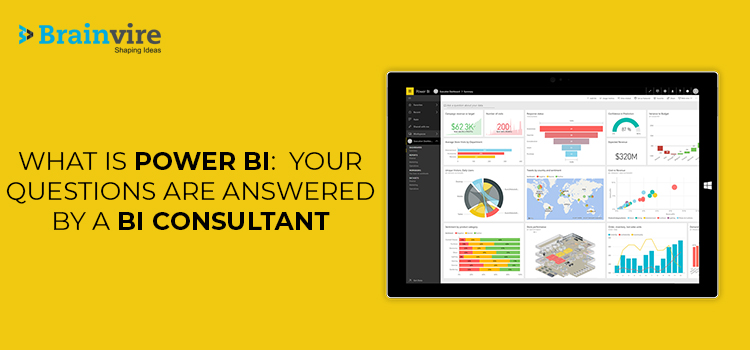 In this modern era, with massive digital information being generated every hour, it is safe to say that data has become every business's lifeline!
But collecting enormous amounts of data is useless, especially when companies can't make any sense of it. This is where the Business Intelligence (BI) software comes into picture.
This stat shows how businesses have used BI to be successful:
Have you been planning to integrate a platform that helps extract actionable and rewarding insights?
You have come to the right place! This article helps you understand the basics of Power BI, its functions, and how it can help your business.
Here is a list of what we will be covering:
What is Power BI
The Workings of Power BI
Elements of Power BI
Different Versions Offered By Power BI

Power BI Desktop
Power BI Service
Power BI Mobile
Power BI Embedded
Power BI Reporter Server

What Are The Benefits You Can Reap From Power BI
Reasons Why Businesses Should Use Power BI
Can Power BI Be Integrated With Other Platforms
So let's get started!
What is Power BI?
Built on the cornerstone of Microsoft Excel, Power BI helps businesses gather, handle, and scrutinize data from an array of sources via a seamless interface. Though similar to Microsoft Excel, it is more powerful as compared to its counterpart.
Power BI is a business intelligence tool used for a manifold of reasons.
Essentially, Power BI draws digital information, analyzes it, and transforms the data into accessible insight. It often uses easy-to-process and visually appealing graphs and charts.
With this platform, you can connect various data resources from databases and Excel sheets to on-premise and cloud-based applications.
Want to convert your idea into a successful app or website? Schedule your free call with our expert now.
The Workings of Power BI
Businesses use Power BI to create reports and insights by collating their organizations data.
This platform has the potential to connect with various data sets and automate the information for better understanding. It also produces visuals and reports from the data it's fed and further shares it with the users.
Integrated with machine learning abilities, Power BI helps you:
Identify various patterns in your digital information
Conduct 'what if' situations
Make well-informed predictions
Prepare for upcoming demands and other essential metrics
Elements of Power BI
Microsoft's Power BI platform consists of numerous applications and each one of them has its own uses and features. The product has the following elements:
Source: Intellipaat
Power Query: This is a data connection app that transforms, merges, and improves your digital information from various sources.
Power Pivot: This is a tool that helps create different types of data models.
Power View: With this visualization app, you can produce intuitive graphs, charts, and maps.
Power Maps: This is yet another data visualization app which creates captivating 3D visuals.
Power Q&A: This is a Q&A tool that allows you to ask questions regarding the data.
Different Versions Offered By Power BI
Power BI has a limited number of versions that you can choose from, based on your requirements, budget, and the way you'd like to launch it.
These range from free to premium and light to comprehensive facets. So you can choose the one that is in line with your needs. You can either go with the desktop app, online Software-as-a-Service version, an on-premise app or the Power BI mobile app.
You can also opt for the white label service, if you're a software developer.
Source: GangBoard
Here's a sneak peek into the various Power BI versions, before we delve deeper into each version:
Power BI Desktop: Also known as the desktop app, this is a free version and specially designed for SMEs.
Power BI Service: This is further divided into two versions, which are:

Power BI Pro: This per-user license version is a paid one but with limited capabilities and features.
Power BI Premium: This version requires you to have licenses as per scale and is developed for large-scale businesses.

Power BI Mobile: This version of Power BI is compatible only with various mobile platforms.
Power BI Embedded: A white label service, Power BI embedded is a version that software developers can easily integrate with their apps.
Power BI Report Server: This version is an on-premise app intended for companies that have to maintain their reports and data.
Now that we've seen a glimpse of these versions, let's understand them in detail.
Power BI Desktop
Power BI desktop is even known as Power BI Free since it is a free desktop version and can be installed directly in your computer.
This version of Power BI functions coherently with SaaS service (Power BI service) and offers improved data modeling, exploration, report creation, and data shiping. It offers captivating visuals as well.
With this desktop version, you can easily save and publish your reports and data on the main site of Power BI. Since it's a part of Office 365, you can sign-up for free.
But what will you get by using this Desktop version?
Here are some benefits that you can experience:
Connect your data sources with Power BI easily.
No restrictions or limitations apart from how much data you can add.
A complete cloud storage of 10GB
Upload 1GB data at a time
Easily clear and automate your data
Develop countless visualizations
Complete access to the library of visual templates
Easy export of reports and data
The only hiccup with this version is, you cannot share the reports with others. Yes, you can publish them on the web. But it is later made available for the public, which is a little risky!
Power BI Service
A complete version of Power BI, this model is hosted on Microsoft's cloud platform that is Microsoft Azure. It is further divided into two versions – Power BI Pro & Power BI Premium.
This is somewhat similar to Power BI desktop, since it has similar visualization templates, file storage and upload limit, and refresh rate allowance. The only difference between the two is that the Pro version lets you privately share reports, dashboards, and data with others. But even the other party needs to have a Pro license.
Source: SA Technologies
With Pro, you also get some additional features such as the freedom to develop workspace for apps, create accessible content, and put together different dashboards.
This version acts as an alternate option for Power BI. Unlike Power BI Pro, the premium version does not require you to purchase a license for every user. With the premium model, you only need to pay for the processing capacity and the space required for your business.
When using the premium version of Power BI, you get 6 types of capacity models. Each model has its own amount of storage space, letting users select the one that is perfect for their platform.
The Power BI Service version is also equipped with several incredible features. Some of them include:
Office 365 launcher
Navigation pane
Feedback and help icon buttons
Home button
Dashboard with titles (Canvas)
Labelled icon buttons
Navigation path
Question and answer box
Power BI Mobile
A native mobile application, the Power BI mobile version is highly compatible with diverse mobile operating systems like Android, Windows, and iOS.
With this app, whether your data is stored in the SQL server or cloud platform, you get complete access to secure and real-time reports and dashboard. Every mobile user is also allowed to develop and share individual reports, submit questions in plain language, and create push notifications for receiving alerts about their data.
Power BI Embedded
The embedded version of Power BI lets ISVs (Independent Software Vendors) and other developers to easily integrate the capabilities and functionality of Power BI with their applications on a while label, pay-as-you-go basis.
So instead of developing individual data reporting facets, you can embed this platform with your products and let it figure out all the necessary data and report analysis.
Your users will never know that your application and other products function on Power BI; the platform simply blends with your app.
Power BI Report Server
An on-premise server, the Power BI report server works cohesively with the premium version of Power BI service. With this report server, you can let your users take complete advantage of the platforms on-premise app.
Source: Javapoint
For certain organizations, they have no option to upload their digital information on the cloud. There are two reasons behind this:
Lack of required connectivity and infrastructure to fully access various SaaS platforms.
Restrictions against data regulation in their industrial segment.
But companies can still deploy the report server behind their firewall since it functions seamlessly on the cloud platform offered by Power BI. This further offers companies the liberty to easily migrate to Power BI's cloud-based platform.
It has several similar features as that of the server version. But Power BI report server also has certain exclusive key functionalities alongside data generation.
What Are The Benefits You Can Reap From Power BI?
For companies looking for additional analytical strength and reporting potential as compared to Microsoft Excel, Power BI is the perfect BI tool.
Source: Columbus Global
Microsoft's platform can help organizations collate, examine, and predict their company data. They can also receive in-depth insights about their business performance and functions. This further helps them come up with well-informed decisions on the basis of the retrieved data.
Here are a few essential benefits that businesses can reap from Power BI:
Companies can add massive amounts of digital information in their Power BI platforms, which is otherwise a troublesome process in other software.
With its machine learning facets, you can scrutinize your data, identify valuable patterns, and accordingly make the necessary predictions.
Visual graphs and charts can be created for your data using various visualization templates to help your business better understand the data.
Being a cloud-based solution, Power BI offers cutting-edge intelligence potentiality and advanced algorithms.
With advanced personalization options, you can let your users develop intuitive dashboards to quickly and easily access the information.
You can set up alerts on the KPI to keep updating your users about your essential measurements and metrics.
The seamless interface of Power BI makes it an easy-to-navigate and user-friendly platform as compared to other spreadsheets.
The Power BI platform embeds well-known management tools such as Office 365, Dynamics 365, and Sharepoint with your products
It offers unbreachable security and keeps all your essential data safe.
Power BI offers both internal and external control on who can access the data and who cannot.
Reasons Why Businesses Should Use Power BI
How can you determine whether Microsoft's Power BI is the perfect choice for your company?
Here we've mentioned the top 4 reasons why opting for this platform is the right option:
1. Faster Insights
With Power BI's simple set up process, no training, and intuitive dashboards for Google Analytics, Microsoft Dynamics, and Salesfore, you can quickly get all the required insights about your business. 
2. Automate Distribution & Publication
Rather than sharing large files through emails or shared drives, simply upload your data and reports to Power BI Service. The incredible features of this platform will refresh, publish, and distribute the data whenever you update your database.
3. Real-Time Data
Whenever the data is streamed, the dashboard of Power BI is updated in real-time, offering you the potential to find opportunities and solve issues swiftly. You can also display the visuals and real-time information with complete ease.
The app navigation feature of Power BI provides developers the ability to personalize the navigation experience and helps users to quickly search for content.
Can Power BI Be Embedded With Other Microsoft Platforms?
Yes, Power BI can be embedded with both third-party and Microsoft platforms for the easy collation of essential data.
Some of the well-known Microsoft services that can be integrated with Power BI are Office 365, Execl, Teams, Exchange, SharePoint, Dynamics 365, and Cortana. You can even expand the native connectivity of the platform to new sources with the help of Microsoft Flow or Custom Connectors.
You can use some elements of Power BI such as Power View, Power Pivot, and Power Query from Excel. This helps you collate and develop reports, produce visualizations, and other data sources within Excel's interface.
Power BI can be embedded with other non-Microsoft platforms like GitHub, ZenDesk, Google Analytics, Salesforce, QuickBooks, Facebook, and Marketo.
Source: Javapoint
Bottom Line – Make Power BI a part of your business today!
Use this article as your road map to integrating your business goals with Microsoft's Power BI platform and your first move towards success. If you are confused about where you can start the implementation process of this platform, then Brainvire can help you with it contact our team today!