Businesses have unquestionably transformed in recent years thanks to artificial intelligence (AI), which has opened up previously unimaginable opportunities for expansion and reinvention. Odoo Enterprise Resource Planning (ERP) has also gained popularity as a powerful tool for managing and integrating many aspects of a company's operations. 
Combining AI with Odoo ERP might be very beneficial to the future of the company. Odoo integration powered by AI offers businesses a glimpse into the bright future.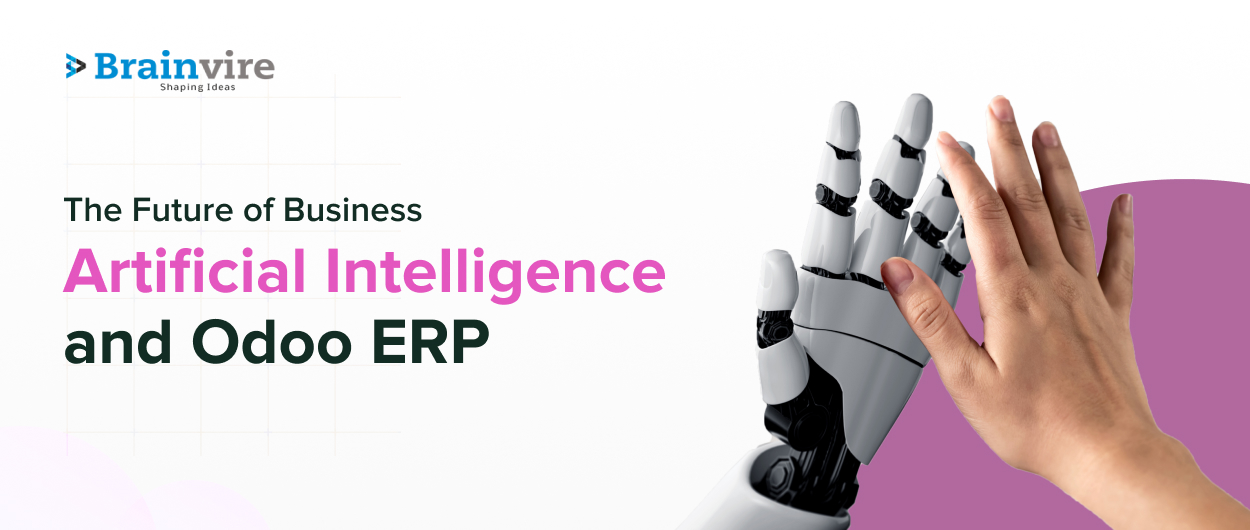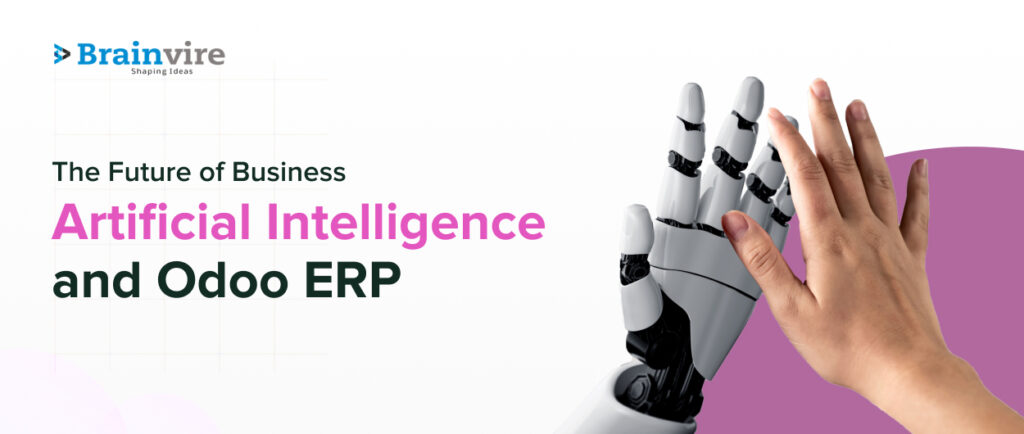 AI features already in Odoo:
1.    NLP – OCR: Intelligent document processing
When you digitize your invoices, you create electronic versions of your paper bills for your vendors and customers.

These Features Are Used in Businesses for
Odoo's document recognition is possible via optical character recognition (OCR). Invoices are scanned into a system where new forms for both vendors and customers are generated, and their information is automatically supplied.

The AI Tool enables you to extract text from a picture.
The module uses Tesseract Optical Character Recognition Engine to get the text.
As a result, the module is a time- and labor-saver since it eliminates the need for manual data input.
You can only use the Data Fetch module for updating purposes.
The module extracts information from the picture and saves it as a new record in Odoo.
Automated Document Processing: Data extraction from documents like invoices, receipts, or contracts may be automated with AI, which helps save time and reduces human mistakes.
2.    AI Chatbots

The Chatbot Framework uses artificial intelligence to link to various plugins for use in Omnichannel and transitional workflow. Chatbots enabled by artificial intelligence, for instance, may answer
Eg- customers' questions and requests for help immediately, even while the company is closed. 
The Chatbot framework powered by AI integrates with various channels and workflows through plug-ins. Chatbots enabled by AI, for instance, may respond immediately to client questions and requests for help, even while the company is closed. 
Benefits of Odoo Chatbot  
Odoo's NLP means it can converse with users in their virtual space.
It provides prompt, helpful responses to inquiries from customers at all hours.
The Odoo ChatGPT Chatbot can support many users for a small fee.
The module consistently provides the proper responses depending on the input training data.
What can we achieve in Odoo using AI?
Mastering these AI features requires a profound understanding and tailored customization to deploy them effectively within Odoo. We're here to guide you through listing the benefits achievable through precise customization.
Recommendation products: By making product and service recommendations to specific customers based on their prior purchases, clicks, and interests, AI-powered frameworks may enhance the customer experience and increase sales. As a result, users can better zero down on the content that piques their interest.
Customer Analytics & Customer Behavior: Through analyzing consumer data and providing suggestions based on the customers' interests and behavior, AI may also assist firms in personalizing marketing efforts. 
Predictive Analytics: Organizations might expect market patterns, client propensities, and item requests with Odoo ERP frameworks driven by man-made brainpower (simulated intelligence). This works on the association's speed and spryness in deciding.
Dynamic Pricing Trend Forecasting: Future fashion trends for each product category may be identified by collecting, analyzing, and interpreting information from several sources, including social media marketing, e-commerce sites, and the runway.
Next Best Action: Next best action may assist you in determining whether a client is still engaged with your company and, if not, what activities you can do to win them back, such as sending them an email about the new offer to pique their interest in the promotion.
Improved Customer Experience: The satisfaction of one's customers is essential to the survival of any company. Businesses may benefit from AI's ability to improve customer service by automating customer interactions and offering individualized care. 
Bots: A lot of time may be saved by using a bot, which is a sophisticated chatbot used to answer often requested client concerns. Data collected is used to alter the posed question dynamically. Thousands of salesforce users are benefiting from this kind of natural language processing.
Personalization: Odoo may benefit from AI's ability to customize user experiences by evaluating customer behavior and preferences and delivering suggestions and material more likely to interest the individual.
HR Management: Odoo's HR contains artificial intelligence tools that may help with candidate screening, employee performance reviews, and staffing forecasting. Along with this AI can suggest strategies for HR management. 
Fraud Detection: Odoo's e-commerce and payment processing modules are equipped to identify fraudulent activity using AI algorithms, such as bogus orders and suspicious transactions.
Odoo AI Procurement Optimization: By examining historical data, AI can recommend the best vendors, quantities, and pricing to improve the procurement process. VMS is a natural fit for using AI technologies, which have permeated almost every facet of corporate operations, from customer service to human resources. The main selling point of AI is its capacity for rapid, accurate data analysis, which yields valuable insights that people would overlook. 
Odoo AI Email Marketing: Email marketing efforts may benefit from AI algorithms' ability to categorize contacts, forecast consumer behavior, and optimize email content. To better provide personalized marketing efforts and increase customer engagement, businesses may use AI-powered solutions to evaluate client behavior and preferences.
Dashboards with Added KPIs in Each Category: The ability to examine facts and draw conclusions is greatly enhanced. The platform uses AI-driven technologies to provide insights and suggestions, allowing businesses to make data-informed choices.
Odoo AI financial reporting: Financial reporting automation is feasible and necessary in today's dynamic corporate environment. Technological progress, especially in Artificial Intelligence (AI) and Machine Learning (ML), has enabled the automation of several jobs in the financial sector.
Automation for Sales: Sales teams may benefit from AI-powered technologies by automating chores like lead scoring and prioritization. This gives them more time to focus on high-value prospects. 
Voice Assistant:  With the help of an AI-enhanced voice assistant, sales representatives can enter data while on the go and keep their records up-to-date.
Natural Language Processing (NLP): Odoo's potential to recognize and process natural language depends on implementing NLP, which facilitates user interaction with the ERP system through voice commands and text input.
Sentiment Analysis: Odoo's sentiment analysis integration helps companies learn more about their customers via reviews, emails, and social media to serve their clients better.
AI in CRM: AI optimizes sales processes, offering users predictive lead scoring, accurate sales forecasts, personalized recommendations, and efficient data entry automation, enhancing overall effectiveness. In addition, CRM with built-in AI provides benefits such as
a. Predictive lead scoring.
b. More accurate sales forecasts.
c. Recommendations.
d. Data entry automation.
e. Automatically generated follow-up emails..
f. Automated emails.
g. Account intelligence.
h. Conversational AI.
i. Lead conversion.
j. Opportunity close prediction.
When working with Odoo, how can you put Artificial Intelligence to use?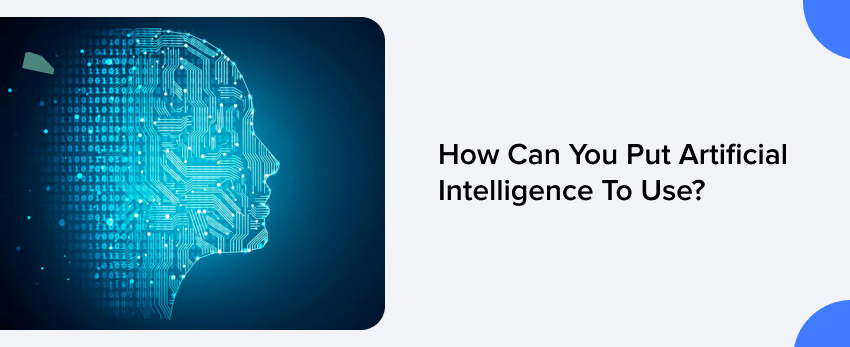 Why should you use Odoo AI (the ChatGPT-familiar language model GPT-3) inside your Odoo system? Odoo AI consolidates your workflow into one location while preserving your familiarity with the software. As always, the Odoo user interface keeps things friendly and straightforward.
Let's examine some of its practical applications in the marketplace. 
Concepts for Business and the Tech Sector
Do you wish there was a less complicated approach to building a brand-new module? Suppose you ask Odoo AI to create a module based on your specifications about the module's intended purpose and features. In that case, Odoo AI will provide detailed instructions and write the necessary code.
Concepts for Manufacture and Production
Use Odoo AI's processing capacity to compile data on the efficiency of your equipment and tools over time. When connected to machine sensors, AI can accurately predict when components like seals, motors, and cylinders will wear out.
Retail and Wholesale Market Ideas

Use Odoo AI to generate text for your online shop's product descriptions. Alternatively, it may act as a digital sales assistant by directing clients to the best items for their needs.
Methods of Property Administration and Project Planning
The idea is to use Odoo AI to make appealing presentations from your real estate data. Odoo AI allows you to achieve what used to take hours in minutes, and you can do it for several properties simultaneously. You could use Odoo AI in the future to predict which areas are likely to see growth in popularity.
Read more: Artificial Intelligence Project Ideas For Business Transformation
Innovations in relevant fields
A concept for the pharmaceutical industry is to search the whole database at once for drugs that don't have particular limits rather than pulling up individual medicines to check their constraints. Businesses may use Odoo AI to find specific products, like nasal sprays, safe for use during pregnancy and nursing.
AI-Powered Customization in Odoo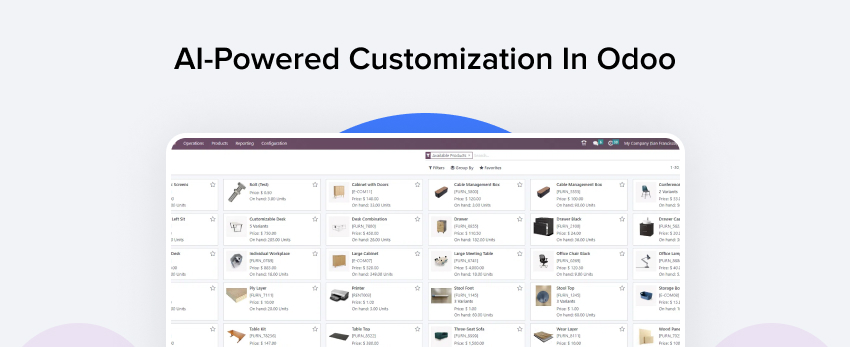 Odoo's adaptability to individual needs is one of its many strengths. However, on the flip side, it also comes with the drawback that it must code almost everything.
For example, by evaluating consumer data and making suggestions based on their tastes and behavior, AI may help businesses tailor marketing efforts to each customer. You can identify future fashion trends for each product category by using a "prediction engine," "sales forecasting," or "dynamic pricing trend forecasting," which analyze and interpret abundant data from social media, e-commerce platforms, and the runway.
Domain-Specific AI Use Cases in Odoo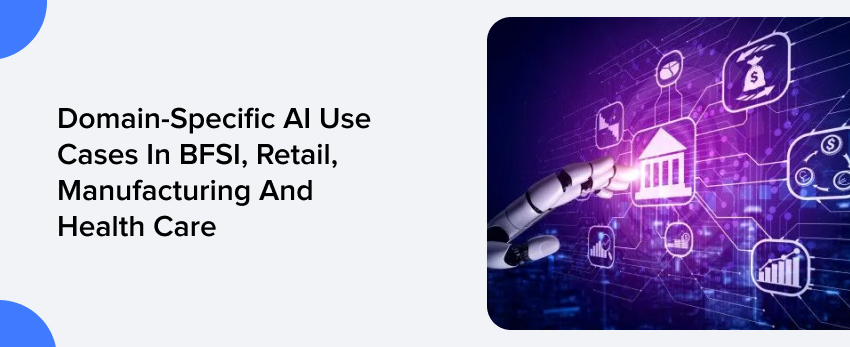 BFSI
AI in fraud detection.
Machine learning for investment assistance.
Intelligent document processing – E-KYC (OCR).
Bank Statement Analysis (OCR).
Retail
Smart Inventory Management based on Predictions.
Inventory Management: Inventory planning and demand forecasting.
Image tagging and recognition: AI suggests similar products from a customer's chosen screenshot.
Production planning and control: AI optimizes machine layout, operation assignment, and sewing line balancing.
Manufacturing
RPA streamlines tedious tasks: RPA software efficiently manages repetitive data transfer, querying, calculations, and record upkeep tasks.
Predictive maintenance enhances safety and cost-effectiveness: Customized solutions for improved maintenance.
Machine learning algorithms forecast demand: Tailored prediction models.
AI in warehouse management optimizes demand forecasting and task allocation, reducing workplace injuries.
Health care
Analyzing patients' Electronic Health Records to minimize redundant tests and enhance patient care.
Utilizing big data to identify at-risk patients by analyzing patient trends, medical history, and diagnostic data.
Leveraging NLP to convert doctors' unstructured notes and utilizing image analysis for medical diagnostics.