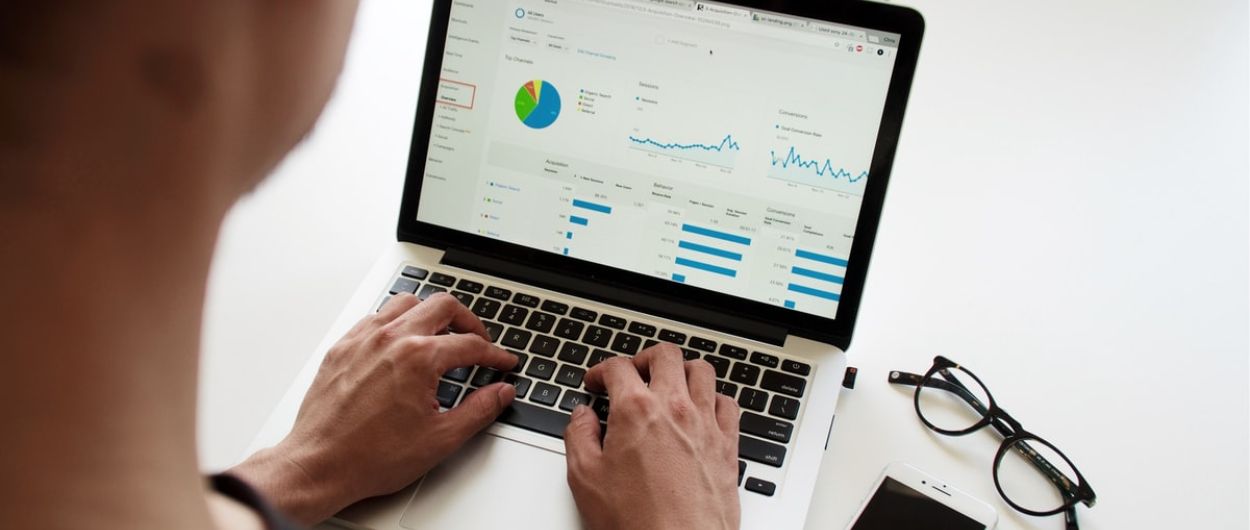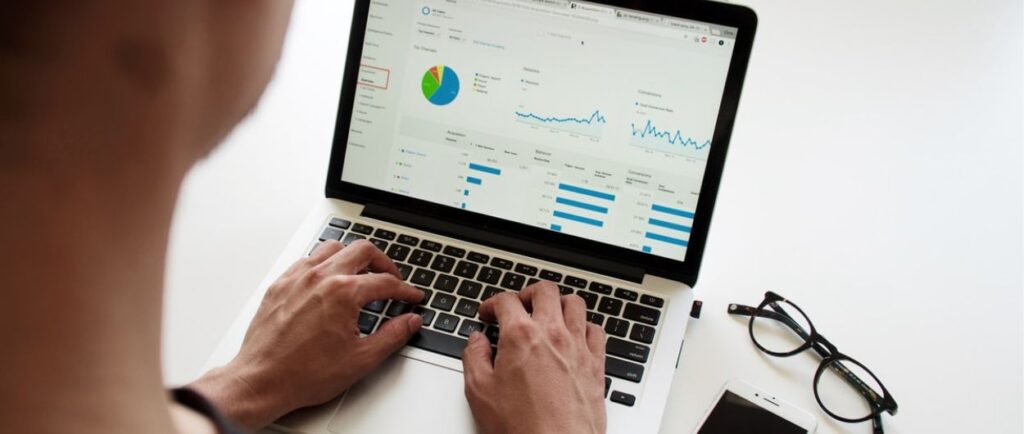 "Data is what you need to do analytics. Information is what you need to do business." – John Owen
The idea that BI exists as a buzzword has an intense past. Business intelligence (BI), primarily in capital letters, originated during the 1960s to share information among businesses. 
It continued to grow in the 1970s alongside computer-driven decisions and data for insights and was then developed into a specialized offering for Business Intelligence teams integrating BI services.
And in the past few years, with the use of Business intelligence tools, here we have some of the stats backing the growth of BI. 
Modern Business Intelligence systems prioritize the flexibility of analysis, control of data on reliable systems, empower the business and rapid insights. The following article introduces BI and represents the iceberg's edge.
According to Mordor Intelligence, the Business Intelligence Market was reached at USD 20.516 Billion in 2020 and is anticipated to earn about USD 40.50 Billion by 2026 with a 12% CAGR over the forecast period.
Many different industries use BI to stay in line with technology, such as healthcare, education, and healthcare is leading among them. 
Data is the basis for any business transformation and is available from any source for business transformation.
For example, Charles Schwab used business intelligence to view comprehensive data about each branch of its business to understand performance indicators and identify potential opportunities.
Having access to an integrated business intelligence platform helped the firm see branch data in an integrated format. As a result, branch management can help clients whose investments need reorientation.
What Is Business Intelligence?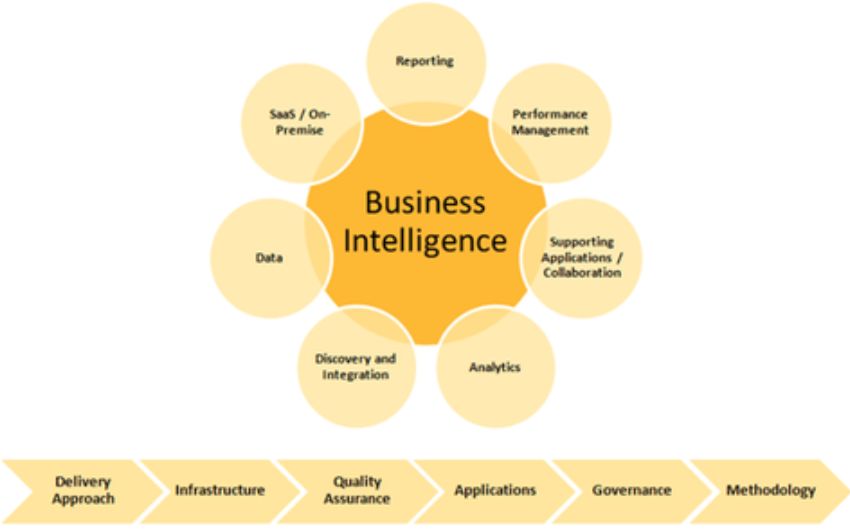 Business Intelligence (BA) can influence decision-making by using software tools for business intelligence. This patented technology-driven process can help corporate executives understand how the company is performing and provides insights that can help improve decisions.
Although Business Intelligence does not directly warn businesses of any possible risks in their business decisions, it provides a valuable tool to know current trends and their business decision choices, which can help the company grow and thrive.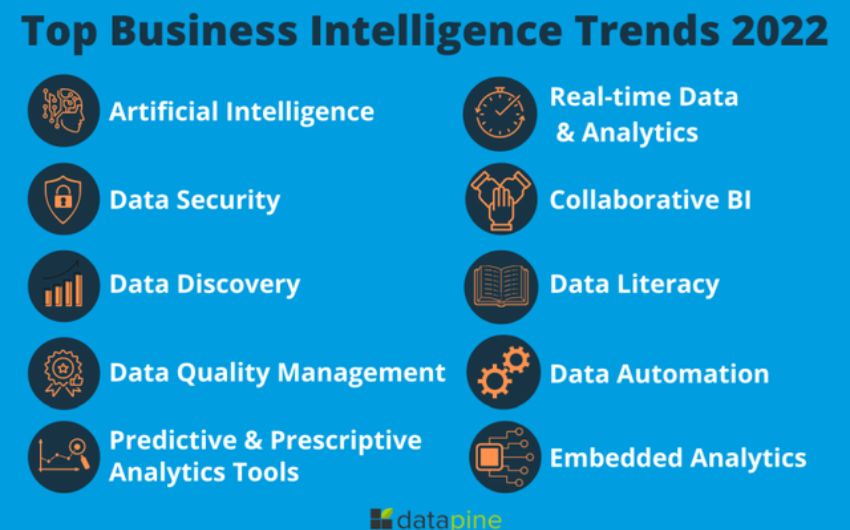 Business intelligence helps businesses make more informed business decisions by presenting current and historical information in the business context.
Let's look at the Business Intelligence Architecture to understand how it can help your business.
An analyst can rely on BI to provide performance and competitor benchmark data that helps to improve the organization's efficiency. Analysts can also find trends in markets to boost profits. 
Systematically using data is essential to have accurate data for everything. So how Does Intelligence Improve Business Intelligence?
Why Is Business Intelligence Important For Your Organization?
It's time for technology development. Digital advancements are changing how we live, and the business industry felt the most significant impact.
Companies are now using analytics tools to know more of what customers are saying, and they're able to do it without the need for any marketing campaigns. Let's break down Business Intelligence's role in business success for your business. 
Despite this technological shift, many business owners seek control over online information. Unfortunately, learning how to best use technology is a difficult job. 
As per the Finance Online report, business intelligence and analytics software market share is increasing worldwide.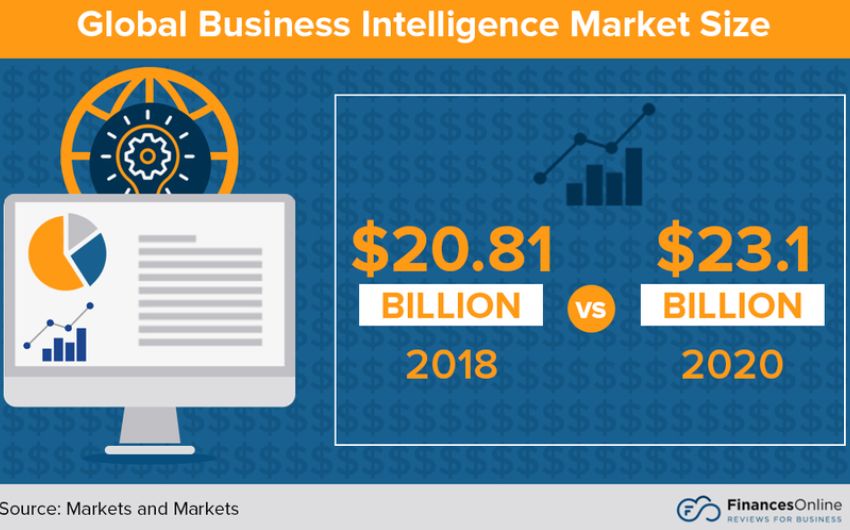 Technology advances in business intelligence may be a significant factor in business decision-making. There are ways to increase the effectiveness of your organization in determining its performance.
How Does Business Intelligence Work?
Companies have goals. To assess the results of these questions, the organization gathers all the necessary details and analyzes them. 
Technically, raw data are collected from business activity. Initially, data is extracted in a warehouse. After the information is retrieved, a user can access the data and analyze it for business questions.
The Difference Between Traditional BI And Modern (Self-service) BI
BI has always prioritized data analysis in its own right as it has a quick way of delivering data to customers. It historically built business intelligence software on traditional business intelligence. 
This was the Top-down approach where business intelligence dominated the IT organization, and most of the data were answered using static reporting tools.
This means that when someone had an immediate inquiry regarding the information they received, they'd have to go through the next step in the process. So the reports became slow and frustrating, and people could not use the data correctly.
Thus, Modern or Self-service BI came into the picture. It eliminated all the drawbacks of the traditional BI, such as the long and frustrating process. Now it directly gives access to data to create a model. 
BI Data Analytics And Business Analytics Working Together
Business analytics are data and business analytics; however, they are used for just one part of business operation. BI is based on interactively analyzing data. 
Data scientists look at the data and make predictions for the future by using sophisticated statistical and predictive algorithms.
Data Analysis: Why did it occur? Business intelligence takes these models and algorithms and translates these into actionable language. According to Gartner's IT glossary, "business analytics include data analytics, forecasting analytics, application analytics, and statistics."
Why Does Business Intelligence Matter?
The data displayed helps companies improve their business decisions. For example, an analyst uses data analysis to provide a range of performance metrics to assist in the organization's operations. This is one reason many companies have used BI.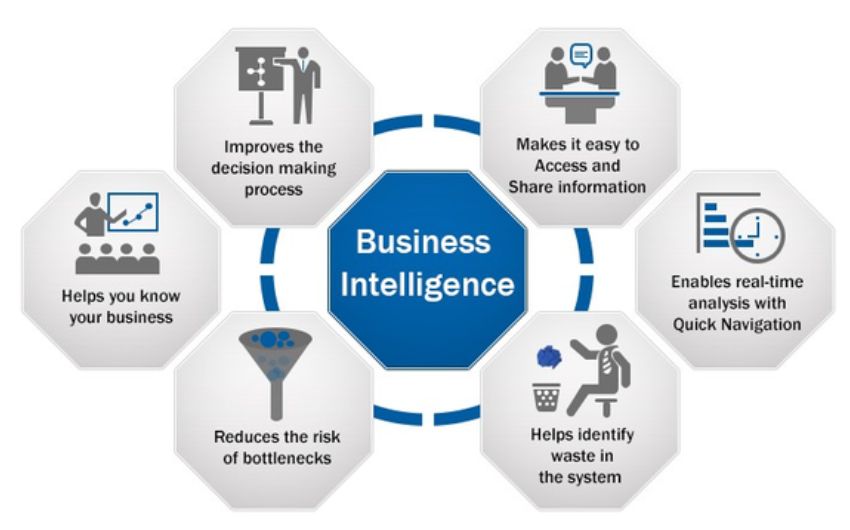 Improvement Of Business Operations
Traditional reports is quickly obsolete. Companies depend on accounts to make crucial business decisions every month. BI reports, however, allow for accessing information, performing analyses, or creating customized reports for each individual.
The BI reports are also dynamic, and they can pick and analyze specific metrics. For example, if one considers online purchases, one can measure the number of customers abandoning carts instead of transaction counts using the analytics provided above. 
The company can determine when people leave the site and reduce abandonment carts.
Improved Efficiency
A well-functioning and effective information management system can significantly improve business productivity. Those changes have boosted the company's total revenue. 
Making valuable information available to different groups of organizations minimizes the waits for reports and increases productivity.
No data can only exist within privileged organizations; everyone can share them. So that all employees stay informed and can make informed decisions. For instance, telecom companies are always looking for ways to reduce risk.
BI helps businesses improve processes by giving the teams a clear perspective of their goals. 
To grow your business in this cut-throat digital era is essential to learn about BI. And Brainvire is ready to help you out to enhance your business.  
Enhanced Productivity
It is possible to improve the workforce's productivity with an integrated data system. Business Intelligence management software provides automation and data mining capabilities. So employees can concentrate more productively.
Utilizing enterprise intelligence technology is also an essential concern for energy companies, especially in oil and other fossil-fuel sectors. 
Most organizations use business intelligence software for the rapid analysis of geological information. However, it would require much effort and time to analyze the data.
Sales And Market Intelligence
Most sales and marketing teams use CRM (Customer Relationship Management) software to track customer relationships. 
The information available can help determine the effectiveness of the strategic initiative involving customer interactions. In addition to identifying new clients, BI software can also be helpful.
Often businesses employ the same BI technique to analyze sales wins or losses to achieve a sales advantage. Business intelligence software provides a way to identify potential income opportunities by analyzing internal processes.
Competitive Advantage
Furthermore, the benefits of using BI are competitive advantages. The Business Intelligence Platform helps businesses see competitor plans and make unbiased choices. A firm that keeps an eye on its internal system holds an edge on one which doesn't.
Specifically, businesses must learn about trends by identifying them and tracking them effectively in the fashion industry. They are crucial when selecting design ideas that will grow with the global movement.
Rapid Decision-Making
The most critical element of evaluating business decisions is ensuring evidence supports them. BI assists organizations in setting goals.
BI tools are helpful tools when making quick decisions. For example, businesses can forecast purchase patterns and offer personalized offers via an e-book or mobile app. This initiative will encourage existing shoppers and increase revenue.
ROI And Goal Improvement
The use of an enterprise intelligence platform automates the reporting process. For example, it can tailor a successful marketing campaign to specific markets. 
The team can analyze data to optimize advertising through real-time tracking and reporting. In turn, they improve customer engagement and conversions.
Top Business Intelligence Tools And Platforms
Many tools and solutions provide automated analytics to the organization. The system allows the user to view information quickly without coding it. 
There are numerous tools available to create customized reports, data visualizations, or customized dashboards for a wide variety of people.
In business intelligence, visualizations are a common way of presentation.
More organizations adopt the modern BI model that focuses more on data collection and analysis. It controls and protects all data (data accuracy and access), which allows a user to interact with his data directly.
A modern analytics platform such as Tableau assists organizations with the entire analysis cycle—data preparation in Tableau Prep analysis and discovery in Tableau Desktop and sharing and management in Tableau servers and Tableau Online. 
This is a Sample Dashboard in Tableau of Data visualization for beginners.
Therefore, it can govern information sharing and allow more users to visualize the data to gain insights.
Visual analysis helps you keep your business data at a constant pace. In business intelligence, data visualization has become increasingly prevalent. 
Human beings are visually impaired and have a keen understanding of color patterns. Therefore, the data visualization shows information more easily.
Visualizations compiled in dashboards tell a story quickly and show trends or patterns whose detection is difficult with manual analysis of raw data. 
This accessible nature also facilitates a broader conversation around data, which results in more excellent business benefits.
4 Real-World BI Use Cases
BI helps businesses improve tactical, strategic management processes by giving the teams a clear perspective of their goals. I've been learning about BI, and it is essential. So let's see some practical examples for BI.
Netflix
Its over one billion-member customer base is overwhelmingly in demand. So how does Netflix use analytics for business strategies? Netflix combines various methods for using data. 
The more common business intelligence example is the organization's new programming concepts adapted to previously watched television programs.
Netflix is using BI to promote customer interaction and content engagement. It has a very effective business intelligence system to facilitate targeted content, and its recommendation system provides more than 80% of all streaming.
Coca-Cola
Coca-Cola can use Facebook data to boost its brand image and sales. The company can recognize when a drink's image is posted online by AI. 
BI helps BI understand who's drinking their beverages, where, and how often they mention the name.
The statistics can help consumers make personalized advertising more likely to get clicks than any generic ad.
Amazon
It also makes logistic and business decision-making decisions using the Amazon Business Intelligence toolkits.
Using a data analysis technique, Amazon can manage its supply chains efficiently.
The data and analytics technology has significant effects on Amazon's supply chain – this range primarily includes the optimized shipping route and the allocation of inventory.
American Express
I think the fintech industries have shown the best results in this area. American Express has used BI to create and sell innovative services that offer customers products in this industry. 
In addition, American Express uses BI to keep customers who thought about shutting out the account effectively.
Wrap Up
Business intelligence is an integral part of a company's business operations and operational planning strategy.
Those changes could help boost the profitability of companies by improving operations, promoting products and gaining competitive advantages over competitors, and increasing profits.